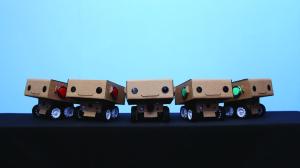 Robert De Niro and Jane Rosenthal founded the Tribeca Film Festival in 2002, providing a much-needed boost to the spirit of New York City and to a neighborhood devastated by the terrorist attacks. It worked. The festival has screened more than 1,300 films since its inception and will surpass four million attendees this year.
But after 10 years, the brand finds itself in need of some freshening. As cinematic celebrations go, the Tribeca Film Festival has a reputation for being a bit serious in tone. Although it has generated some $725 million in economic activity for the city and has attracted plenty of elusive boldfaced names in the process, TFF lacks the sheer celebrity wattage of Cannes and Sundance or the hipster DIY ethic of South by Southwest, and it can even feel a bit institutional (an image that's not helped by the fact that the festival is presented by American Express).
This is not to say that Tribeca's staid image is accurate: running from April 17 to 28, the festival boasts seven sections this year, including one (Viewpoints) focused on international independent cinema and another (Midnight) devoted to the kitsch of cult flicks. That's not even including the recent additions aimed at making the festival more accessible to the common New Yorker, like the Tribeca/ESPN Sports Fest, or the free outdoor viewings that are part of the Family Festival and the Tribeca Drive-In.
But this year brings even bigger changes aimed at breathing fresh life into the festival. Tribeca has made a major attempt to rebrand itself as a techno-savvy, immersive production, one that will have a whole new generation snapping up passes that range from $250 to $25,000 (for the Tribeca Film Institute's VIP badge).
Most notable is the inclusion of a new category called Storyscapes: five immersive, interactive transmedia projects presented off-site at the Bombay Sapphire "House of Imagination" pop-up, located on the seventh floor of 121 Varick Street. To head up this push toward a younger, more tech-savvy crowd, Tribeca tapped Ingrid Kopp, who is the director of Digital Initiatives at the Tribeca Film Institute, TFF's year-round nonprofit affiliate, and heads the Institute's fund for interactive documentary filmmaking.
"We get excited about these projects that reimagine and rethink storytelling using new technologies, and one of the frustrations has been not having places where these films can be shown," Ms. Kopp told The Observer. "Besides the Internet, of course."
In Ms. Kopp's view, having a major "traditional" (her word) festival not only dedicating a space to these projects but also making them "official selections" marks a "major sea change."
The transmedia narratives of Storyscapes were chosen through an open application program, though Ms. Kopp's job is to keep an eye out for a talented up-and-comers. That's how she found Canada's Bruno Choiniere, Philippe Lambert and Guillaume Braun, the creators of A Journal of Insomnia. Since Fall 2012, the Journal has maintained a website where people can share stories about their sleep issues. At Tribeca, however, the project will be more than just a crowd-sourcing of material; instead, it will be a physical space that visitors can walk through and interact with, challenging its audience to "experience the condition for themselves."
A considerably more adorable Storyscape is the director-less Robots in Residence, created by "robot artist" Alexander Reben and filmmaker Brent Hoff. Here, the robots themselves—described by a Tribeca spokesperson as a cross between "a baby seal and Wall-E"—provide the feedback loop. They ask visitors questions, and the humans can, in turn, "direct" the robots' eye-cams where they should look. This collaborative process between human and A.I. is then entered into a long-form documentary film that is Robots in Residence.
The three other Storyscapes exhibitions also fall somewhere on the participant-as-subject spectrum, though their subject matter ranges widely, from artistic (Exquisite Forest, previously at the Tate Modern) to silly (Star Wars Uncut) to serious (Sandy Storyline).
In keeping with the theme of new media storytelling, Beyond: Two Souls, the upcoming "interactive movie" (formerly referred to as a video game) for Playstation, will debut footage at Tribeca, after which actress Ellen Page will talk to creator David Cage. Note: the game's producers have suggested that viewers might be able to find out "what lies beyond" after playing Beyond: Two Souls.
As for the non-interactive lineup, the sheer number of films guarantees that there will be something for everyone. For opening night, which is about the only night when the Tribeca Film Festival is the place to be, the coordinators have chosen to premiere the documentary Mistaken for Strangers. On the surface, it's an odd call: last year the festival opened with much more Hollywood-friendly fare, The Five-Year Engagement, and a Vanity Fair-sponsored after-party. Mistaken for Strangers carries no Hollywood firepower and was directed by Tom Berninger, whose biggest claim to fame is that his older brother is the front man for the band the National.
The film tracks the Berninger brothers' relationship after Tom, a horror movie/heavy metal fan, signs on to be a roadie for his brother's indie rock band and starts documenting the whole experience. This morphs from a conceptual gimmick into something approaching fraternal genius. (Think the Maysles by way of the Duplasses.) Naturally, the National will play after the screening.
After opening night, there is still much to take in. For the activist, there's Josh Fox's Gasland II, a sequel to his 2010 hit. Expect a lot of famous faces at this one, as the anti-fracking movement has become the celebrity cause du jour (it's way beyond Mark Ruffalo).
For the music fan, there's Greetings From Tim Buckley, starring Gossip Girl's Penn Badgley as the titular singer's son Jeff. (Warning: the filmmakers couldn't secure the music rights to Jeff Buckley's work, so there had to be some creative work-arounds.) Be aware that there are two other Buckley films out this year—A Pure Drop by Brendan Fletcher, and the tentatively titled, troubled production Mystery White Boy.
For sports fans, we recommend Benny Safdie's documentary about the teenage basketball phenom Lenny Cooke.
Other exciting entries include Yves Montmayeur's profile of Michael Haneke, Michael H. Profession: Director; Red Obsession, which looks at China's burgeoning Bordeaux mania, complete with counterfeit wine and a criminal syndicate of sommeliers (sure to make Sideways look like The Hangover); and The Kill Team, a troubling look at one of the five U.S. soldiers arrested in 2010 and charged with a heinous war crime—the murder of Afghani citizens for sport.
Then there is the festival's popular Drive-In, an honest-to-goodness drive-in theater located at Brookfield Place. Of particular note there is Lil Bub & Friendz, a documentary about one of the Internet's most famous cats, directed by Andy Capper and Vice's Juliette Eisner, which will have its Tribeca Festival premiere on (appropriately) 4/20.
If there is one area where TFF always excels, it's the Tribeca Talks, and this year is shaping up to have some unmissable acts, like Clint Eastwood sharing a stage with (no, not an empty chair) Darren Aronofsky after the premiere of WBHE's Eastwood Directs: The Untold Story on April 27. Or Dutch genius Paul Verhoeven (RoboCop, Total Recall, Basic Instinct, Starship Troopers), who will be discussing his own crowd-sourced film, Tricked, after its North American premiere on Tuesday, April 23. It's worth attending just for the chance to ask the director why he refuses to make films in this country anymore.
And afterward, you can perk up with some Wall-E robot seals.