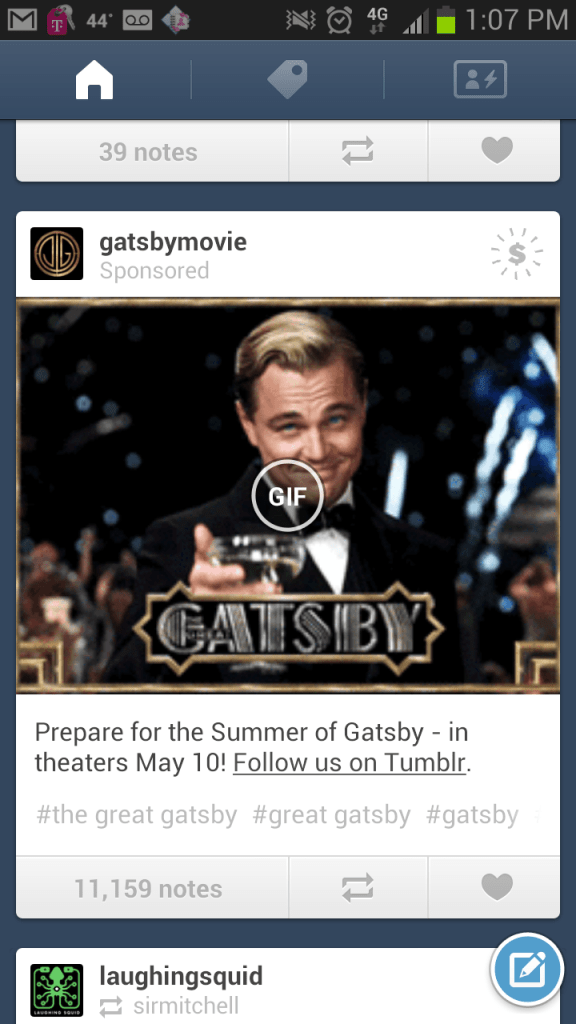 Fire up your Tumblr mobile app this afternoon, and you'll notice something new in the river of posts flowing through your dashboard. Scroll through and for the first time, you'll see advertising mixed in with the #RHOA GIFs and nail art.
Ad Age reports that starting today, the profit-seeking startup is rolling out sponsored posts in the prime real estate of users' streams, though only on mobile apps. Launch partners include G.E., Warner Bros. and ABC, and at most you'll see four per day, identified with a little dollar sign.
Of course, this is Tumblr, so a brand can't simply shell out a quarter mil for a banner and call it a day. These are sponsored posts, just like what you'd see in the Tumblr Radar, so they have to link back to a larger Tumblr presence. But this is a far more visible product than what's been available until now.
Ad Age says:
"'This mobile advertising opportunity is native to how our consumers experience content on our apps; as a continuous stream,' said Tumblr head of sales Lee Brown, in a statement."
Maybe that's why G.E. and Warner Bros both launched their campaigns with–duh–GIFs. Never not GIFs.