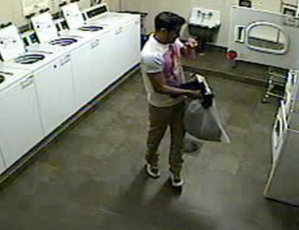 Thought you were safe because your apartment building has its own laundry facilities? Think again.
Last month, while collecting her clean clothes from the dryer in her apartment building's laundry room, Elisabeth Santana noticed something was missing: her underwear and work-out gear.
Confused about her undergarments' disappearance—Could it have been those pesky New York rats? Or an especially strong and co-ordinated cockroach?—Ms. Santana asked her building's superintendent to see the surveillance video from the laundry room.
What she saw in the video will likely make you commit to hand-washing for all time: Soon after Ms. Santana loaded her clothing into the dryer and left the laundry room, a young man entered the room, opened the dryer that Ms. Santana just shut, and grabbed a selection of freshly cleaned unmentionables.
"It's strange for me to watch this video and see he's looking through my personal clothes," Ms. Santana told NBC. "I was completely grossed out," she said. "The fact that it happened in my building, I felt unsafe and violated."
Apparently, Ms. Santana isn't the only victim of laundry underwear theft. According to NBC, another woman in Ms. Santana's Kips Bay apartment building had had her clothes stolen from the laundry room three months ago. The superintendent of the building also told Ms. Santana that similar cases of theft had been happening in other buildings in the area.
Ms. Santana filed a report with the NYPD, and also plans to post photos of the knicker-napper around her building and neighborhood.
The moral of the story? Keep your laundry room close, but your underwear closer.