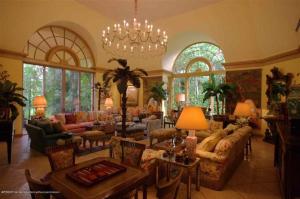 With the passing of Palm Beach socialite and dress designer Lilly Pulitzer, WASPs around the nation will be donning their flowery best in her memory. But for those looking for a more unique way to remember Pulitzer, a wealthy woman's ultimate fashion accessory—her home—is for sale.
Pulitzer's home—710 South County Lane in Palm Beach, Florida, also known as the Jungle for its lush and abundant foliage, has been on the market for a number of years. Back in January 2011, the estate—just over 9,000 square feet set on 1.4 acres of land—was listing for $11.5 million. But today, like all of last season's dresses, it can be had at a discount—just $8.5 million.
And while you're only buying one home, you get three houses: the main house, with four bedrooms; the "casita" ("We were very Cuba," Ms. Pulitzer wrote in her book of herself and her last husband, Enrique Rousseau, "a Cuban émigré so aristocratic he reportedly took a tent, cigars and a houseboy to the Bay of Pigs invasion," wrote The Palm Beach Post) has three bedrooms; and the pool house has another two, plus three bathrooms and a sauna. The property can also be subdivided into two lots, according to the MLS listing.
But the exact specifications of the structures might not be of interest to a potential buyer, as 710 South County Lane is being marketed as simply "land"—that is, a teardown. "It's the largest (non-waterfront) Estate Section lot," the broker told The Palm Beach Post, referring to the interior section of Palm Beach, an area dotted with historic homes. "We're marketing it at land value. When it goes, there won't be another interior lot of this size" on the island.
Speaking of the broker, interested buyers will find that the property's exclusive listing agents have an in-depth knowledge of the estate—they are, in fact, Ms. Pulitzer's children. Liza Pulitzer and her brother, Peter McKim Pulitzer, have the listing. "We would hate to see the house torn down," the younger Ms. Pulitzer told The Observer, "but the house is not landmarked."