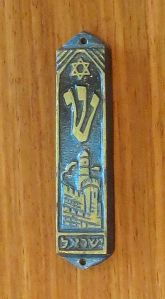 Several Jewish homes in Williamsburg were targeted in an incident on Monday in which religious objects attached to residents' front doors were set on fire.
The burnings, which are being investigated by the NYPD's Hate Crimes Department, took place on Holocaust Remembrance Day, or Yom Hashoah, though police remain unsure of whether the day of religious observance was a factor in the crime.
"The Hate Crimes Task Force has been assigned to it and is treating it as a bias crime," Paul J. Browne, the Police Department's chief spokesman, told The New York Times. "The fact that they are all religious artifacts, we're treating it as an anti-Semitic crime."
The desecration took place at 85 Taylor Street, one of five buildings in the Taylor-Wythe Houses, a public housing community in Williamsburg. Police reported that 11 mezuzahs attached to apartment front doors were burned in the late afternoon on Monday.
According to the New York Daily News, the perpetrator began on the 13th floor of the building and burned mezuzahs on several floors on his way downstairs. Authorities said the mezuzahs were likely burned with a lighter or a blowtorch.
Mezuzahs are important religious symbols of protection, especially for observant Jewish families, who attach them to the right side of front doorframes and in rooms throughout a home shortly after moving in. Mezuzahs are typically made of materials like ceramic or clay, and each contains a small scroll inscribed with Torah verses.
Residents of 85 Taylor Street and the surrounding buildings were deeply disturbed by the incident.
Miriam Schwartz, 75, a victim of the crime who lives on the third floor of the building, told the Daily News that this is the second time her mezuzah has been burned.
"This has to be stopped," Ms. Schwartz said. "I'm always scared."
Public advocate and New York mayoral hopeful Bill de Blasio spoke out publically about the incident.
"Nothing but hatred can explain why someone would burn mezuzahs on Yom Hashoah, the day we remember the six million Jews killed during the Holocaust," Mr. de Blasio said in a statement on Monday. "This is a sickening act of prejudice that strikes at the very core of who we are as a city. Make no mistake, we will find those responsible."