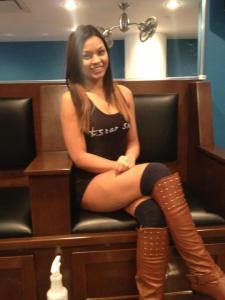 If you're a high-end businessperson, you have to have the classiest of everything—including your shoe shining experience.
Forget those street-side polishing stations; instead, check out Star Shine, the financial district's new upscale shoe shine shop with a sexy twist.
At Star Shine, clients aren't just treated to plush chairs and views of flatscreen TVs; they're also serviced—in a strictly shoe-related way—by Star Shine's attractive, young staff.
"Looking for the ultimate shoe shine?" Asks the Star Shine website.
"Look no further. Star Shine NYC is the ultimate shoe shine experience. The Star Shine shop features a modern storefront, quality furnishings, flat-screen televisions, a classy and relaxing atmosphere, and of course our famous Star Shine Ladies!"
Called the Star Shine Ladies, these youthful young women polish clients' shoes in tight, revealing attire. It's like Hooters, but fewer wings, more degrading?
H/T DNAInfo