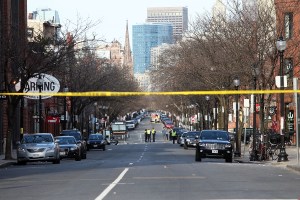 I have been through a lot since 1993. I was one of three of the closest survivors of the attack on the WTC and testified in the 1995 Criminal Trial of Ramzi Yousef. As a Special Agent of the NY Field Office of the US Secret Service I was trained to be a critical incident Counselor and sadly responded to the scene of the aftermath of the bombing of the Murrah Federal Building in 1995 — 6 US Secret Service employees were murdered.
When America was attacked on September 11th, 2001, I was working at the Waldorf waiting to pick up a head of state. I spent the next six weeks protecting the worlds leaders as they came in to pay their respects.
The primary result of an attack like the one today in Boston is fear. The bombs did damage and injured hundreds and caused death and destruction. But it's fear and paralysis that are the main goals of terrorists.
Whether this turns out to be a domestic terror incident by a lone wolf or a far more advanced conspiracy, damage to our psyche has been done. That's the reason terrorists select high-profile targets, even if better opportunities for casualties exist.
The terrorist's timing here was notable, as well. Complacency has set in–with Newtown and other mass shooting tragedies, the nation has become distracted from terror and its implications. If another bomb goes off in NYC or another high value target–especially if it's a larger, more advanced device–then anxiety will give way to panic. Judging from early reports, both in the media and from colleagues who funnel me official briefings, this seems to be the work of an amateur. The device did not include projectiles or shrapnel, though ball bearings seem to have been present. Broken glass does terrible damage, though, and most windows here do not have blast mitigation, as they do in Israel.
What will happen now is that the FBI will take charge, as it's domestic terrorism. Does this incident indicate we failed in our security preparedness? I do not believe we have – high profile events like the Marathon get high priority and the first responders seem to have prepared effectively. Every new piece of equipment is tested at events such as the marathon. The fact is, many runners use backpacks to change their clothes–it's a chaotic and difficult security situation under the best of circumstances. And I'm sure K-9 teams were present but probably overwhelmed.
Large public events in a free society are always tough to coordinate. Sometimes priorities shift or include public safety plans, e.g., closed street routes for Fire/EMS to respond. Attempts to have the remainder of the event and the city remain as functioning as possible. This setting is a lot different from a stadium or arena where walk-through magnetometers and handhelds are used and bags checked to ensure fans' safety.
The coordination of Federal State and City Authorities has been rehearsed in Boston and most major cities. This will help to restore calm. Hopefully it will also help facilitate the real sharing of any intelligence uncovered.
There are some reports of a Saudi National in custody–remember this is an ongoing investigation, so facts are fluid. But the fact that at least three reputable news outlets–Fox, CBS, and NBC–are reporting this despite denials from Boston PD probably indicates that the info was leaked by local PD while Feds want to grill the suspect, who is alleged to be injured. Meanwhile, here in New York City, the NYPD has already amped up its presence and I'm sure the Intelligence Division is in high gear working informants and working with the Joint Terrorism Task Force looking for chatter, clues, suspects, etc.
Even as some of the families of Newtown victims sat in the stands at the Boston Marathon–imagine the horror if they turn out to be among the injured–we are a nation that essentially trusts people to act decently. How many more shoebombers and underwear bombers and Marathon bombers and Unabombers and World Trade Center bombers and Murrah Federal Building bombers we will need to witness before we harden our hearts is not yet known.
Scott Alswang spent more than 20 years in the US Secret Service and retired as the Asst to the Special agent in charge of the NY Field Office. He is currently the Senior VP of SOS Security LLC – a large national/international full service security firm, and has provided security for Bill Clinton, Yitzhak Rabin, and Madonna.