Earlier this evening, President Barack Obama addressed the nation about the deadly bombing of the Boston Marathon. And, while extending his condolences, the president urged the American public to avoid jumping to conclusions—terrorism, unmentioned by Mr. Obama, seemingly being the most obvious—as the devastation is investigated.
"We still do not know who did this or why and people shouldn't jump to conclusions before we have all of the facts," Mr. Obama explained. "But, make no mistake, we will get to the bottom of this. And we will find out who did this. We'll find out why they did this. Any responsible individuals—any responsible groups—will feel the full weight of justice."
Mr. Obama also said that he's mobilizing the federal government to assist local governments respond and investigate the apparent attack, as well as increasing "security around the United States as necessary."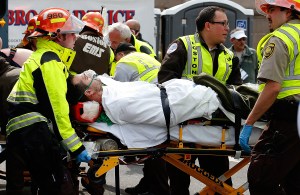 "I've directed the full resources of the federal government to help state and local authorities protect our people, increase security around the United States as necessary and investigate what happened," he said.  "I've also spoken with Governor Patrick and Mayor Menino and maid it clear that they will have every single federal resource necessary to care for the victims and counsel the families. And, above all, I made it clear to them that all Americans stand with the people of Boston."
Mr. Obama, sending his sympathies to the victims, further provided a post-partisan message of unity as Boston recovers.
"I've updated leaders of Congress in both parties and we reaffirmed that on days like this, there are no Republicans or Democrats; we are Americans united in concern for our fellow citizens," he said. "Boston is a tough and resilient town; so are its people. I'm supremely confident that Bostonians will pull together, take care of each other and move forward as one proud city. And, as they do, the American people will be with them."