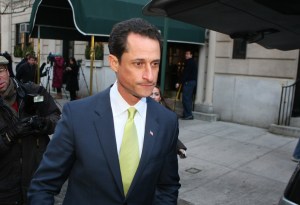 Anthony Weiner's possible entry into the mayoral race is being thoroughly mocked by the New York Post and late-night comedians, but for the candidates already in the field, it's not necessarily a light-hearted affair. Mr. Weiner, once the leading mayoral contender, tumbled out of the spotlight in 2011 thanks to a digital sex scandal and the ensuing cover-up. But as the former congressman still has a full campaign war chest and strong name recognition–and the fact that electoral politics is a zero-sum game–the question rises: which of his hypothetical rivals would be most impacted by his decision?
Speaking to various operatives involved in the race–usually off-the-record or on-background–three central arguments emerged: Mr. Weiner would hurt Public Advocate Bill de Blasio, Council Speaker Chris Quinn or, possibly, no candidate at all.
The case against Mr. de Blasio is fairly basic. Mr. Weiner, when he was in Congress at least, developed two valuable voter bases that Mr. de Blasio also wants to cultivate: outer borough ethnic whites and progressive activists. Buying this line of thought, several strong supporters of Mr. de Blasio privately expressed pessimism over their candidate's chances should Mr. Weiner join them on the ballot.
Veteran political consultant George Arzt agreed that Mr. de Blasio would be most damaged, but said there are tangible branding differences between the public advocate and the former congressman. "I think Bill is recognized as a little to the left of Anthony, and I think that the base is somewhat different," he told Politicker today. "While it's okay to say that they're 'outer borough,' one thinks himself as the champion of the middle class and the other thinks of himself as the champion of the underdog."
Additionally, Mr. Arzt said some, more socially conservative voters–like the Orthodox Jewish community in Mr. Weiner's old district–could be turned off by the raunchy details of his old Twitter scandal.
"If he's going to do this he's going … to have to go street by street into his base and try and regain as much of his base as he can," he said. "To do that, he has to go into the Orthodox community. He may be shunned by some. He may receive tough questions from others. But if he doesn't wilt at the heat, he could gain a few votes."
For his part, Mr. de Blasio himself pushed back against the narrative that his campaign could be derailed by a Weiner candidacy.
"My strategy is set, I'm comfortable with it," he said after a mayoral forum in the Bronx yesterday. "Obviously I've been a champion for the outer boroughs. I'm a Brooklynite. I believe the city government during the Bloomberg years became less and less fair to the outer boroughs … I think what will ultimately decide this race is who has the clearer progressive vision. And I think I put forth that vision."
Another argument is that Mr. Weiner's core base of support does the most damage to Ms. Quinn. According to public polls, Ms. Quinn tends to hover close to–but not past–the 40 percent threshold needed to avoid a run-off election. If Ms. Quinn can barely clear 40 percent without Mr. Weiner in the race, his presence could drag Ms. Quinn into another, more competitive face-off with whomever the second-place finisher may be.
"[I]f Mr. Weiner enters and peels off just a few votes from Ms. Quinn – even if he finishes dead last – the campaign's dynamics change dramatically," the claim, as editorialized by The Observer today, goes. "It sets up the potential for a Quinn-De Blasio or Quinn-Thompson runoff (the two most-likely scenarios). And that will allow the second-place finisher to mount a stop-Quinn campaign among Democrats who already have demonstrated their uneasiness with her."
Conversely, other politicos–also requesting anonymity in order to do so–noted that Mr. Weiner's sudden interest in City Hall hit the reset button on a bad news cycle for Ms. Quinn. A poll, released yesterday, showed a slight slip in her already-strong approval ratings and, even more significantly, her campaign recently attempted to use legal pressure to get television stations to pull a negative ad against her, generating flurry of free press coverage for her opponents.
Of course, there're always other points of view on Mr. Weiner's electoral ripple effect. Several people we talked to said another white candidate in the field would hurt both Mr. de Blasio and Ms. Quinn, potentially giving a boost to former Comptroller Bill Thompson, the one black candidate in the Democratic primary, or maybe even Comptroller John Liu, who possesses a base of support in the Asian-American community.
And there's always that third option: none of the above. Expressing this view, unaligned political consultant Michael Tobman argued Mr. Weiner's political base, such as it is, has become citywide and would not harm any one candidate's chances.
"I reject the notion that Anthony being in the race harms any one of the other candidates. And that would include talking about 'base' because Anthony has citywide appeal and I see him pulling in Manhattan as well as from Brooklyn," he said, ticking off constituencies favorable to Ms. Quinn, Mr. de Blasio and Mr. Thompson he thought could be potential Weiner voters. "I even see him taking Asian voters from Liu!"