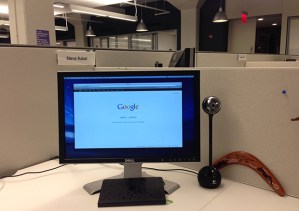 You know that you're in trouble when you start fantasizing about work, and not even work per se, but being more productive at work. This has, we are a little embarrassed to admit, been happening to us with increasing frequency. Maybe if we woke up earlier? Or should we go to bed even later? There's a lovely quietude at 2 or 3 or even 4 a.m., a clarity and focus that comes when the world is asleep and the streets are quiet, but rising late means starting each day feeling like a slugabed.
On the weekend, the problems expand: work from home, go to the office, try to focus amid the distracting chatter and cutthroat outlet competition of a coffee shop? Would we be more productive if we logged more hours in front of our computer, or less, the tonic of relaxation reviving our creative energies? The cruel catch-22 of it all is that thinking and worrying about productivity makes us even less productive.
Admittedly, we have been thinking a lot about offices lately. And we have been visiting LinkedIn's Where I Work photo/essay series with some frequency. Though it's very straightforward, there's something deeply satisfying, maybe even a little dishy about seeing famous and famously productive people's desks. It's not as prurient as a home tour, but there's something that's even more revealing about an office. With all personal possessions spirited away before the photographer shows up, home tours often reveal little more than that the celebrity had the good sense to hire a designer with impeccable taste and employs a cleaning person to keep his or her house pristine.
An office, on the other hands, is more apt to reflect a person's real habits and inclinations: its clutter of pens and coffee cups and papers, or the total lack thereof, offering a glimpse into who they actually are—drab aeron chairs versus antique settees or desk treadmills, sterile empty desks vs. those heaped with company ephemera and personal tchotckes. Some seem comfortingly similar to our own workspaces (Sequoia Capital chairman Michael Moritz keeps a laptop, a desktop and a small bottle of whiskey for bad surprises), while others seem impossibly aspirational (Richard Branson's must have office accessory is "a brilliant personal assistant" who takes email dictation). We recently spoke with Dan Roth, the executive editor of LinkedIn Today, about the appeal of the series. Below is an abridged version of our conversation.
The Observer: Has the series [which started a few months ago] been popular?
Mr. Roth: Oh my god, it's been incredibly popular. The Richard Branson post has more than 2,000 comments on it and over 2,500 likes. Branson is the top one. The second most popular one is Arianna Huffington,
The Observer: Why do you think people care about seeing other people's offices?
Mr. Roth: When you look at how much time people spend at work vs. at home, it's got to be that more than half your life is spent sitting at a desk or doing work-related things. I think there's a lot of curiosity about how other people work: readers want to see everything from everyday office workers to people like Richard Branson.
The Observer: Do you think that there's something aspirational about it? I can definitely see how people would want to read about Richard Branson sitting on a beach "Where I work: Surrounded by People (and Swimming in Tea)" and fantasize about working on a beach themselves.
Mr. Roth: Sure, part of it is aspirational. When you look at a picture of Richard Branson and you see him surrounded by his colleagues in bikinis, of course a lot of people will wish they had offices like that. It's the same reason that people look through the real estate section of the newspaper or go on home tours. But I think the other part of it is that people want to know: What can I do to make myself more successful?
The Observer: What are some of the biggest trends you've noticed in the offices of very successful people?
Mr. Roth: The idea of being on the go is very popular. The posts about people who do their best work while they're moving are very popular: the CEO of LinkedIn does walking meetings now, James Citrin of headhunting firm Spencer Stuart—he has a treadmill in front of his desk and found out that the perfect speed to walk is .7 miles per hour. It's the productivity aspect—we see this all the time from everything members look at on LinkedIn— people are curious to make the most of their time, they feel time starved.
The Observer: Do you think that people want and expect better office environments than they once did?

Mr. Roth: Definitely. There is so little separation anymore between work and personal life, personal life happens in the office and work life happens at home. Workers are less willing to accept bad office environments. They feel like they're working all the time, so they want good office environments.
The Observer: Are employers willing to oblige?
Mr. Roth: I think there's more willingness to cater to workers who want a better working environment. If it helps productivity, I think it makes sense. When you're asking people to do more with less, a little goes a long way.