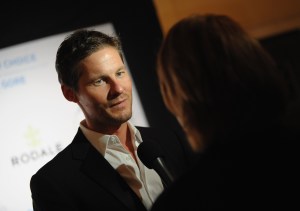 David Zinczenko, former Rodale Executive and EIC of Men's Health, just signed a deal with Random House which the publisher is calling "unprecedented in scope."
Not only will Mr. Zinczenko, BFF of Dan Abrams and author of the hugely succesful series Eat This, Not That, be penning new titles for a Random House imprint under his new contract, but will be getting his own, separate imprint as well, along with a publishing partnership for his new company's titles, and, oh yeah, a swoonworthy amount of cash. And guess what? He's totally worth it.

According to The New York Times:
The first part of the deal is that Mr. Zinczenko…will now write three yet-to-be-titled books on exercise, diet and nutrition for Ballantine. The first book will appear in 2014.

Mr. Zinczenko has also entered into a partnership with the Random House Publishing Group to form a new imprint — Zinc Ink — which will publish six to 12 general nonfiction and lifestyle books annually, beginning next year. He and the publishing house will share in profits.

Additionally, Random House will distribute books created and packaged by Galvanized in association with magazine publishers and other media clients. The first announced partner is American Media Inc., a publisher that owns Shape and Men's Fitness. As distributor, Random House will keep a percentage of book sales.
Galvanized Brands being the company that Mr. Zinczenko started with another former exec after he left Rodale at the end of 2012. Though the exact amount that Random House is paying for these three new health books has yet to come out, it's been put in the multimillions. And that's just for the Ballantine books.
So why the huge amount of interest (and cash) directed at The Abs Diet author? Well, look at the facts: the Eat This, Not That books sold a total of seven million print copies, which, to put it in perspective, is 14 times the amount that Lena Dunham's book would need to sell in order for Random House to turn a profit after paying the first time author $3.7 million. If Mr. Zinczenko has the track record of selling such an enormous quantity–and has a built-in market to boot–the multimillions start to make sense.
The really smart move isn't the books, but the Zinc Ink imprint deal, which will allow both Random House and Zinczenko to share the profits from whatever titles the Oprah of Fitness puts his stamp of approval on. Not to mention the partnership with the magazine publishing company behind Men's Fitness, which should stick in Rodale's craw for awhile. And really, is there ever a better incentive to make a deal than being able to stick it to the former employers with whom you notoriously did not get along with?