During the last few decades, Brooklyn has shaken off the vinyl-clad, working-class outer-borough stigma so completely that it can be hard to remember a time when New Yorkers ever dismissed the borough of Kings as a place you came from rather than went to. Indeed, it may well have eclipsed Manhattan as a exporter of culture, with traces of its handsewn jeans and vintage-style facial hair visible on vaguely artsy twenty-somethings in cities around the globe.
Queens, on the other, hand, is still struggling to shed its dreary outer-boroughness, its reputation as a place where secretaries come back to reasonably-priced studios at night. Despite all the enthusiastic references to fun beer halls and more reasonable rents and short commute times to Manhattan that new residents are likely to whip out, it still feels more like a compromise than a destination.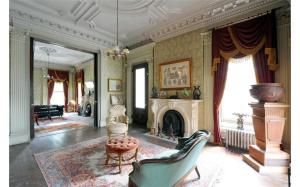 We never realized just how maligned Queens is until we read a recent Daily News article about how no one wants to buy a stunning, well-appointed Steinway mansion that comes with an acre of land (an acre of land!) in Astoria (the borough's crown gem for goodness sakes!) that is selling for only $2.9 million. (To be fair, a recently-organized group of preservationists and local history buffs wants to buy the mansion and turn it into a museum, but they can't swing the price.)
What's more, the 25-room mansion (a true mansion, not a townhouse calling itself a mansion–we're onto you non-free-standing structures) appears to be in really great shape. This is not one of those "bring your architect" listings. The executrix of the property is even open to selling off the surrounding land separately to make the asking price more palatable.
Maybe we've just had our head in the custom-sifted luxury sand, but $2.9 million sounds like such a steal that we spent a good five minutes convincing ourselves that we could enjoy living in Astoria and another five minutes fantasizing about how we could raise the money. (That said, the order in which we undertook those calculations is fairly revealing.)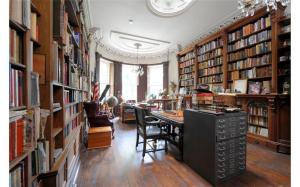 After endlessly hearing about how all the rich oligarchs are elbowing each other out of the way to sign contracts for $50 million floor-throughs, it's shocking to see a truly gorgeous $2.9 million property snubbed by buyers—a property that has a full English bar and pub in the basement, a sauna, and a center hall with a 30-foot skylit dome . True, the property did first try for $4.9 million when it came on the market in 2009, which was really something of a reach given that no sale in Queens had even approached that price. But considering the fact that an attached on both sides Park Slope "mansion" recently tried for $25 million, and the Pierre penthouse is asking $125 million, $4.9 million doesn't seem unreasonable at all.
And hyped up as the so-called trophy market may be, we know for a fact that in Brooklyn people are lining up millions to outbid each other on ho-hum townhouses.
Still, the sales prices in Queens are low compared to Brooklyn, even with the luxury towers that never seem to stop rising in Long Island City. In Brooklyn Heights, the townhouse where Truman Capote once lived set a borough record when it sold for $12 million last year. In Queens, it was a Long Island City penthouse that sold for $3.1 million, also last year.
In 2012, the average sales price for an Astoria one-bedroom was $387,786—an all-time high. Which sounds crazy cheap, until you realize just how warped our perspective is in New York and how it's harder and harder for anyone who's not rich, or at least very wealthy, to live here anymore. It's easy to get lost in a haze of good cheer when talking about the luxury market and the celebratory, gee-whiz atmosphere that surrounds every record-setting sale, but maybe we should be glad that for all its proximity to Manhattan, prices in Queens are lagging. After removing ourselves from the rah-rah market mindset, we realized that A.) we don't really want to live in Astoria and B.) we'll never be able to afford a $2.9 million mansion anyway C.) maybe it's not such a bad thing that there aren't enough deep-pocketed buyers to drive up real estate prices in Queens. Now that Manhattan is the most expensive place in the U.S. and Brooklyn is the second most expensive, do we really want Queens to claim third place?