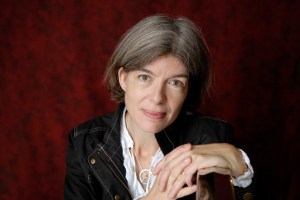 Into the ongoing debate over whether or not women can "have it all" comes a Molotov cocktail thrown by an unlikely provocateur. Claire Messud's new novel, The Woman Upstairs (Knopf, 272 pp., $25.95), posits that the natural state of womanhood, at least after age 40, is to have nothing, and that satisfaction of any sort can come only via self-deception.
Ms. Messud's brief novel comes seven years after The Emperor's Children, a book that appraises the vanities and prejudices of a group of recent Brown graduates who are too educated for their own good and, at the novel's commencement, untouched by tragedy. Her protagonist here, Nora Eldridge, is older (she's 42) and dramatically overeducated (at least, so she thinks) for her job teaching elementary school in suburban Massachusetts. Her soul is marbled by a series of disappointments. The Emperor's Children used September 11, 2001, as a narrative device to convey just how much innocence its protagonists had lost; there are no such real-world incursions into Nora's psyche. The disaster, for her, is happening daily.
"I'm not crazy," Nora declares at the beginning of the novel. "Angry, yes; crazy, no." If we are in the hands of an unreliable narrator, it is only because, as Ms. Messud well knows, a person who declares "I'm not crazy" by way of introducing herself is the sort to be distrusted. Nora goes on to describe how she is "invisible" to the wider world and to note that, after a recent hiatus from her job, she might "set the world on fire." Before she begins to recount the series of events resulting in the lull in her teaching career, the reader is left to wonder whether Nora is radically transparent or opaque even to herself, unable to brook the possibility that she might be deluded in her hopes.
And those hopes—drawn vaguely at first so as to further muddle the question of whether Nora is in her right mind—come to a head quickly. Nora begins to describe one of her students, a boy named Reza, the scion of a globe-trotting couple of the sort that even the sanest reader would find infuriatingly perfect. From her first recollections of Reza and his family, it's clear that some sort of transference is occurring between our protagonist and Sirena, Reza's mother. (There's the sense that if this perfect family weren't the source of Nora's attentions, it would have been some other one.)
Nestled next to each other are two brief chapters, one in which Nora recalls receiving praise in high school for a particularly subversive art project ("it gave me such satisfaction") and one where she first meets Reza's mother, an artist by trade ("It felt inevitable, this meeting, like a chance, like a door opening").
Sirena is all that Nora is not—self-possessed, artistically fulfilled, a mother, foreign. Some of these are traits Nora might have had. And Nora sets herself upon a project of insinuating herself into Sirena's life, though it seems to the instigator merely to be the natural progression of friendship. The growing closeness between the two seems like pity on Sirena's part, until it does not. The two women even begin making art together. Sirena has the good grace not to bring up her successes in their caffeine-fueled art sessions, and Nora has the self-preservation instinct to leave out the memories of her former creativity.
The other women in Nora's life seem not to include anyone to whom she might relate: a lesbian couple, nagging and obtuse; a set of co-workers far more invested in their jobs; her mother, deceased. In Sirena, Nora has found the proof that she is not crazy: she is good enough for this better woman, she need not view herself as a woman society has rejected, an archetypal "Woman Upstairs with her cats and her pots of tea and her Sex and the City reruns and her goddamn Garnet Hill catalog."
Long after their relationship is sundered, Nora still refuses to see herself in such a condescending manner. She is no Garnet Hill reader, if you will. Ms. Messud's novel, which uses the notion of the resigned, docile "Woman Upstairs" as a motif throughout, is simultaneously a justification for extreme acts in the name of friendship and Nora's rallying cry for women like her to rage against the world that has been handed to them. The Woman Upstairs avoids moral judgment: Nora's actions are appalling, and Sirena's eventual betrayal of Nora's confidence and privacy are indefensibly cruel to a woman who sees everything in life as something that happened to her. For a moment, Nora is unambiguously right about something. It's Sirena's callousness and self-satisfaction, late in the book, that justify Nora finally as something more than the collected ramblings of someone we know we ought not to have trusted, and they keep the debate over Nora's intentions going once the book has been replaced on the shelf.
Nora is both sympathetic and horrific. She is at once raising a voice to deep-seated misogyny against aging women and confirming every bias. Spun differently, her tale recalls Zoë Heller's What Was She Thinking? (later adapted into the film Notes on a Scandal)—a slow drip of anecdotes reveling in closeness to a friend who represents a gateway to another, better life. But the difference between the two books is Ms. Messud's ability to find the frailty, even the artist, in Nora, which makes Sirena more complex as well. For all her perfection, Sirena's rebukes along the way, as when she visits Nora's class and criticizes her teaching, seem, somehow, unconscionably depraved.
The novel offers no comfort in the end. It is, at last, the story of a woman for whom reality and a rich fantasy life have merged. "Maybe you can't protect one from the other," Nora muses. Filled with rage at Sirena, Nora resolves, at long last, not to lean in but to jump off, to "fucking well live." What, then, was she doing before?
editorial@observer.com