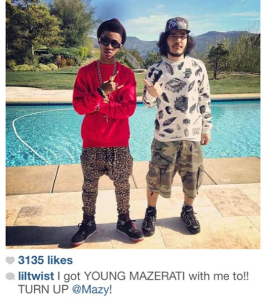 At this point, it seems fair to say that celebrity-associated tech startups occupy their own stratum of Startupland. There's the celebrity-backed startup, benefitting from the digital ambitions of investors like Scooter Braun, Ashton Kutcher, and Lady Gaga. Then there's the celebrity "cofounded" company (see: half the startups in Los Angeles). There's even startups that help brands harness the buying power of, say, Team Breezy.
Coming soon: a celebrity-backed venture capital fund, with a hashtag in the title, of course.
Hipset falls into a slightly different niche: startups that help musicians make money off social media. (Media companies aren't the only ones eyeing potential Internet revenue streams with rabid interest.) The cofounders of Hipset, Mazy Kazerooni and Matt Schlicht, started out as college dropouts, working their into influential positions at UStream, where they met rappers like Wiz Khalifa and Lil Twist.
They left UStream and took their celeb connections with them to found Tracks.by, a Facebook app to help musicians get likes and manage their content that made its way into Y Combinator's summer 2012 class and picked up a number of high profile angel investors like Dave Morin, Lil Wayne's manager Cortez Bryant, Alexis Ohanian, Matt Mullenweg, and AngelList's Naval Ravikant, as well as Menlo Ventures.
But, like many third-party developers before them, Tracks.by was wiped out by the whims of Facebook, Mr. Schlicht told Betabeat, when Zuck eliminated the ability to set a default tab for fan pages.
Oh, welp, onto the next social network!
Today Tracks.by is officially relaunching as Hipset, a music site they began last summer, and debuting the Hipset Network, which offers a similar service as Tracks.by but for YouTube. It is also launching a service called Boost which, "will allow people to create social media campaigns where their fans have to follow them on Instagram (or like them on Facebook, Follow them on Twitter) before accessing exclusive content," said Mr. Schlicht.
Where popular YouTube personalities can generate consistent income from the site, celebrities haven't been as focused on monetizing it, he explained. They often have few subscribers on their YouTube channel, despite the fact that fans watch videos on the site. Hipset thinks they can change that by asking fans to subscribe to a YouTube channel or like the artist on various social networks before accessing content. To do this, the startup uses YouTube's ability to make a video unlisted. Musicians tweet or share a link to a Boost page with the YouTube video embedded. In theory, all those additional likes and views will help rake in advertising dollars or paid downloads.
"For them, it's found money," Mr. Schlicht said. "They're not paying us a retainer, we get a percentage of the revenue that's generated off YouTube." He declined to specify the exact amount: "I don't necessarily want to put the percentage out there."
To differentiate itself, Hipset is going beyond optimizing existing videos and helping its celebrity clientele to collaborate on new content with top YouTube personalities like Sam Betesh (Xjawz), who is apparently "one of the most popular people on YouTube with over 1 million subscribers and over 300 million views." Hipset is also training musicians to adapt to the milieu. "Artists don't typically acknowledge that the camera is there, YouTube is a place where you should be acknowledging the camera" to talk to fans, Mr. Schlicht explained.
Like they say, Facebook's loss is YouTube's gain.