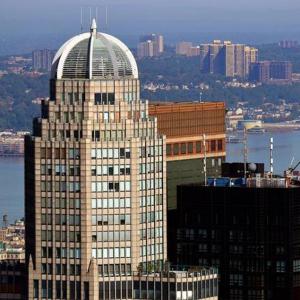 Long Island real estate scion Steven Klar was obviously not having much luck offloading his massive, octagonal condo at CitySpire Center with Douglas Elliman. The much-maligned "trophy" vanished from the market in January, when Mr. Klar  dumped the brokerage—a win for Elliman?—and decided to lick his wounds for a few months and/or get fired up for another try.
At $100 million, more than any home in New York City has ever sold for, the price was widely mocked. Why, people asked, would Mr. Klar think he could best One57's penthouses, which have reportedly entered into contract for more than $90 million, in a late '80s building and a unit that he bought for only $4.5 million in the early '90s (and hasn't renovated since)?
When the unit was taken off the market it seemed like Mr. Klar had finally come to his senses, but never fear, property schadenfreude fiends: Mr. Klar's unit is back! The price is the same—still a risible nine digits, albeit the lowest nine-digit number—but the brokers, Raphael De Niro and Victoria Logvinsky, are gone (and not returning our phone calls).
In their place is… Klar Realty! The penthouse at the mixed-use tower at 150 West 56th Street is now for sale by owner, in what we assume must be the most expensive for-sale-by-owner listing in world history.
"We did a great job with Douglas Elliman," Mr. Klar told The Observer when reached at his office this afternoon. "We were getting calls from other brokers, and I didn't want to deal with it that way."
Asked if he thought he could reach his ask, Mr. Klar responded, "When we finally sell it, we'll know the value." And would he take $50 million for it?
"Absolutely not."
"It could be for sale by the owner's maid," one top New York City broker told The Observer, "that's not the issue. The price and the product are the issue."
With a dated interior—disclaimed by its designer, Juan Pablo Molyneux, who told The Times, "I never thought that this horror would be published, and then everybody would blame me for having done it" (though at least the interior can be fixed, unlike the exterior)—and low ceilings, we'll be impressed if it sells for half its ask.
At $12,500 per square foot, half price—more than $6,000 a foot—would still be incredibly ambitious.
"Owners in love do all kinds of things," one broker said. "Not always the wisest."