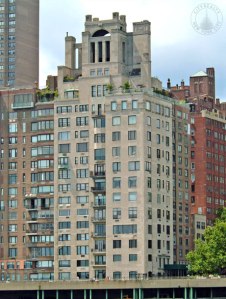 Not often do penthouses at Manhattan's "Good Buildings" (as per Tom Wolfe, according to whom there are only 42) come on the market, but today is one of those rare days: the south penthouse at 10 Gracie Square was just listed for $23 million.
The white-glove building sits in the rarefied hinterlands of the far East Side, overlooking Carl Schurz Park, and once had a yacht mooring onto the East River, sadly disfigured by the FDR (which is decked over beneath the ritziest buildings—a coincidence, we're sure). Moreover, the penthouse occupant gets an up-close view of the building's rooftop fixture, which is rumored to be, along with that on top of 1040 Fifth Avenue, the inspiration for 15 Central Park West's crown.
The penthouse's current owner is financier Yves de Balmann, who is represented by Brown Harris Stevens broker John Burger.
The ten-room duplex co-op sits right next to Gloria Vanderbilt's old digs (her second choice, after she was rebuffed by the board at River House next door—she says because she was dating a black man, the board says because she would draw unwanted attention), where she raised Anderson Cooper in between acid trips ("After a while," wrote The Telegraph, "the therapist removed her blindfold. To her surprise, everything in the penthouse room at 10 Gracie Square looked entirely normal").
But it was also the site of a more tragic event, when her oldest son, Carter, committed suicide by jumping from the terrace, with Ms. Vanderbilt recalling twenty years later, "He let go, and there was a moment when I thought I was going to jump over after him."
Other bold-faced names to reside at 10 Gracie Square include Madame Chiang Kai-Shek, wife to the Kuomintang leader who was pushed out of mainland China by Communist forces and ended his life as a Taiwanese dictator, as well as Eric Rudin of the eponymous dynastic development firm, who picked up a $12 million triplex in the building in 2011.