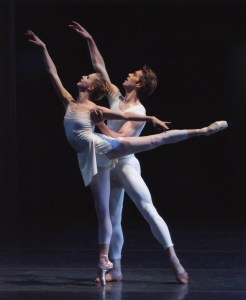 Peter Martins has been making ballets for 36 years now, ever since Calcium Night Light, in 1977. As I remember it, City Ballet's orchestra was on strike, the company was shut down, and somewhere in Brooklyn Martins previewed this startling duet (to Ives) for Heather Watts and Daniel Duell. Everyone trooped out to see it, everyone was knocked out by it, and soon it was in the company's repertory. Arlene Croce described its climax as "a staccato, nonstop, seriocomic pas de deux in which limbs become hinges and handles, bodies are clamped together, then slid part. The choreography," she went on, "makes not one superfluous gesture, everything stands out with bright-edged clarity, and the flatly factual tone communicates an instantaneous emotion." Balanchine liked it enough to insert it into his own Ivesiana, where it didn't belong, but the compliment to Martins was immense.
Calcium was a fortuitous debut, and Martins' ballets through the next several years confirmed this happy first impression: Sonate di Scarlatti, Eight Easy Pieces, Lille Suite were less personal statements than serious attempts to master his craft, under the eye and influence of the greatest of all teachers and exemplars. These works were all fluent and pleasing, and they added up to a convincing apprenticeship. When Balanchine chose Martins as his successor, he knew he was getting a hard-working, competent, and eager dance-maker.
In the immediate years after Balanchine's death, with the entire responsibility for the company on his shoulders, Martins focused more on that responsibility than on his own creative ambitions, but he went on developing new works—eventually, scores of them. Who can remember them all? Who would want to? Far too many seemed to be by the numbers, and the numbers weren't distinctive. Can we really distinguish one of his ballets set to the music of Michael Torke from the next? They all seemed flashy, trendy, empty. He made works to offer opportunities to his younger dancers; he made works to explore the limits of partnering; he made works for his ballerinas, in particular his wife, Darci Kistler, at first to rejoice in her glorious talents, later to veil her diminishing powers. He made his versions of the classics. He mounted Festivals, Homages, Projects. He went in for desperate, gimmicky collaborations—with Paul McCartney, the architect Calatrava, the designer Valentino. He raised money.
Now he's been in charge for 30 years, and the company is securely afloat—his single greatest achievement. And he's celebrating with a new version of his 1988 American Music Festival, which had been a good idea that unfortunately led to paltry results. He's also celebrating by putting forward his own work with uncustomary boldness—Martins has always been modest. This past week, however, was notable for two things: an all-Martins evening, and a total absence of Balanchine. In all the years going back to 1948, I can't remember a week in which not a single Balanchine ballet was performed, apart from those week-long runs of Martins' Swan Lakes, Romeos, etc. An accident of scheduling? Perhaps.
The focus on Martins' ballets has been instructive, occasionally gratifying, and ultimately saddening. His Rodgers and Hart pastiche, Thou Swell, shows him at his exploitative worst. (On second thought, the mercifully brief Sophisticated Lady, to Ellington, may be even worse.) His Fearful Symmetries, to John Adams, is sound and fury signifying nothing—and signifying it for a long time. Barber Violin Concerto is a valiant but unsatisfactory response to that overwrought piece of music (it was more interesting when, originally, the second couple was performed by two Paul Taylor dancers).
But. River of Light, to a dense but powerful score commissioned from Charles Wuorinen and with ravishing lighting by Mark Stanley, has depth and resonance. I can't remember having seen it before, and would happily see it again. The duet The Infernal Machine, to Christopher Rouse, is a fascination of gnarly partnering (it was good to see Ashley Laracey in a prominent role), and another duet, Purple, to Torke, at least gave us a chance to watch the enigmatic, elusive Janie Taylor.
The oddest Martins event was the return of Calcium Night Light. This piece has never lost its provocative appeal, but it came close the other night, due to suicidal miscasting. Martins is relentlessly pushing Sterling Hyltin, and she's a lovely dancer. But Calcium isn't lovely; it's feisty and abrasive. Her silky smoothness is antithetical to the thorny nature of the piece, just as Robert Fairchild's wholesomeness is; there are half a dozen women in the company more suitable for the role. Only Peter Martins' psychiatrist, if he has one, could explain why he would sabotage one of his best ballets this way. Even so, the originality and cheekiness of Calcium could be detected through the pallid miscasting. We were right back in 1977—this guy had talent.
It comes through most powerfully in Hallelujah Junction, a really exciting work made a dozen years ago and set to a really exciting two-piano score by John Adams. (Its title refers to a truck stop near the California-Nevada border.) The two grand pianos, beautifully lit, are raised high above and behind the dance area; we can see the two excellent pianists, Cameron Grant and Susan Walters, preside unobtrusively over the dancing. There's a couple in white—Hyltin and Gonzalo Garcia—and a man in black, Daniel Ulbricht. There are four couples in black. Hyltin is lithe and sinuous—not as expansive as Kistler, the original, but radiant. Garcia is stalwart and gracious. Ulbricht shows us his formidable technique without showboating. What's so remarkable about the piece is the superb sense of structure: The principles, the four couples, come and go in a rapid and inevitable flow, everything exhilarating and natural, everything stimulating, in contrast to the febrile hokeyness of Fearful Symmetries. Hallelujah Junction is Martins' finest ballet, and why it isn't in the repertory of more companies is one of the great mysteries. But the greatest mystery—the sad mystery—is why, if he could make this good a piece, he hasn't made more on its level. Like Marlon Brando in On the Waterfront, he coulda been a contender.