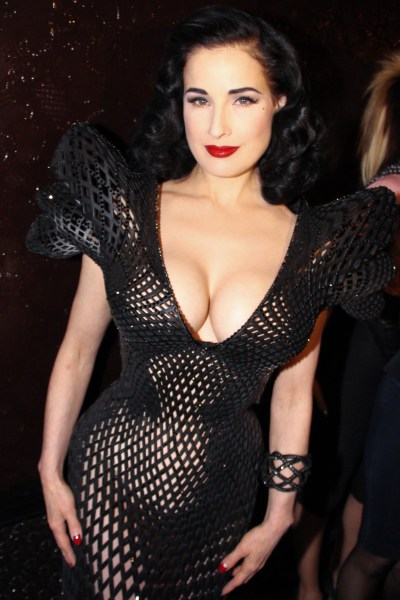 On a cold Tuesday night in early March, NYO attended a fashion show at the Ace Hotel on 29th Street, produced by New York 3D printing company Shapeways. There was only one item for show, however, and only one model. Still, as superstar burlesque dancer Dita Von Teese traipsed up onto the stage wearing the world's first-ever 3D-printed dress, even Debbie Harry crowded in closer to get a peek at history in the making … and almost broke her leg in the process, since she tried to jump up onto a table for a better view. Wearing the Michael Schmidt-designed, nylon-netted gown, created from 17 distinct parts, 3,000 moving joints and over 12,000 black Swarovski crystals, Ms. Von Teese floated like a vamped-up queen up to the stage in a floor-length ensemble that also featured a corset bodice and gravity-defying, tiered bubble sleeves.
"I don't see what the big deal is," one of Ms. Harry's friends remarked after the show. "Aren't all clothes three-dimensional?"
Oh, if only it were as simple as simply existing in 3D.
Here, in a nutshell, is how 3D printing works: In a process called "additive manufacturing," a special kind of printer machine is fed a set of blueprints instead of traditional images or text. Working off the blueprint from the bottom up, the printer extrudes a very fine stream of hot liquid metal, plastic, resin or ceramic powder. When it's finished with the first incredibly thin slice, or "layer," the printer begins the second, then the third, and so on, continuing until it has produced a real-life, three-dimensional version of the object from the blueprint.
While this emerging technology has been around in some form or another since the '70s, it has been so expensive and limited in capabilities that 3D printers have been the equivalent of the room-sized computers with manually inserted punch cards from the same era—only the latter have since evolved into the iPad minis we all tote around or covet today. It has only been in the past two or three years that 3D printers have become more affordable and—thanks to open-sourcing projects like RepRap—limitless in possible applications in fashion and design. Of course, the potential applications for these printers extends far beyond the realm of apparel: anything from astronautics to architecture, weapons to medical equipment, and yes, even food. Though much like the 3D-printed pizza that Hewlett-Packard and Pizza Hut are rumored to be collaborating on, using printers to create garments has been an almost completely speculative exercise. Until now.
"It's been incredibly difficult for fashion designers," Mr. Schmidt admitted to NYO after the show. He was sitting at a table with Ms. Von Teese and architect/designer Francis Bitonti, who created the 3D model of the gown based on Mr. Schmidt's design, which was then printed by Shapeways.  "Some have made inroads into the concept, but it's been mainly in structure." As opposed to, say, functionality or wearability.
In other words, a designer might make a metal dress from a 3D printer, but it would take the Tin Man's girlfriend to wear it.
"We've been very limited by the material with which you can print," Mr. Schmidt said.
So yes, Debbie Harry's friend. It is kind of a big deal.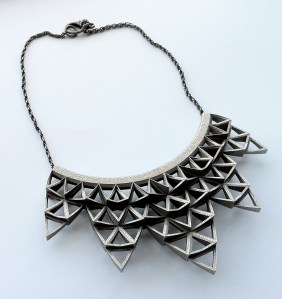 The Shapeways dress itself was made out of nylon and was "essentially plastic," Mr. Schmidt said. "It's designed to have articulation and movement, it's literally printed within the structure." Each joint of the dress has a mechanism in it that expands and contracts around the body, so that even if the material itself isn't fluid by nature, the dress can be. Kind of like those medieval chain-mail undershirts, but with a lot more crystals.
Scientists currently are working on creating more malleable synthetics that will work with the 3D operating structure, which requires a certain level of rigidity in its materials to recreate a structure from a blueprint. So far, the successes in the fashion world have been limited to objects that use harder alloys: Nike's Vapor Laser Talon Football Shoe, glasses from  Protos Eyewear, and designers who use Makerbot (Asher Levine) or Shapeways (Kim Ovitz) for their runway show accessories.
Last year, Continuum, a design boutique that works exclusively with 3D-printed materials, collaborated with Shapeways to create the world's first-ever 3D-printed bikini, made from Nylon 12.
With the exception of the bikini—and Iris van Herpen's architecturally stunning (but, one imagines, functionally impractical) 2010 collection  "Crystallization"—there has not been much impetus for scientists to create softer, more flexible materials, like a cotton synthetic, that could withstand the printing process. And we don't blame them; these guys are busy, possibly working on perhaps less frivolous or more commercial things. The money for the emerging technology is being funneled in directions other than fashion, like medicine, education, even auto manufacturing. After all, if you had funding to create a functional ear or cancer-defeating nanobots versus a couture Dior, which would you pick? Okay, the dress sounds great, we know, but come on …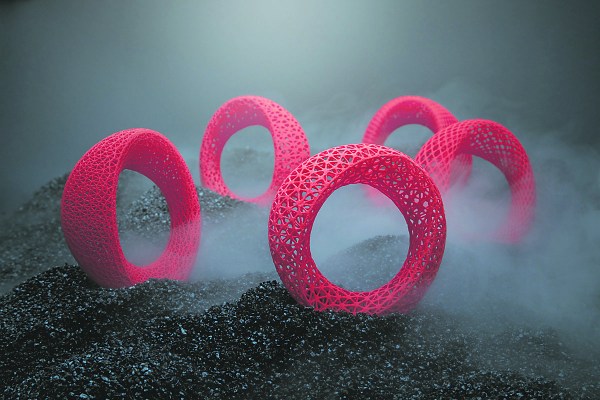 Mr. Bitonti—who dedicated his Brooklyn studio to the research and application of new technologies ("specifically algorithmic form generation, smart materials, and interactive environments," according to his official site)—had worked with 3D printing before, creating full-scale functional furniture. However, this dress was his first fashion foray into what he calls "the next industrial revolution."
And here's the catch: Before that evening, Mr. Bitonti had never met Dita Von Teese. He had the dress printed and built to Mr. Schmidt's specifications on the East Coast, while the designer and the former Mrs. Marilyn Manson stayed on the West Coast. He had been sent a three-dimensional model (non-printed, "for now," Mr. Bitonti pointed out) of the burlesque dancer's body, and had to put together the world's first 3D-printed dress without being able to make alterations or tailor it on her flesh-and-blood figure. Not the way fashion designers usually work. No wonder he was looking so nervous before the show.
But to the credit of the designers, model and printing company, the dress fit like a sparkly black plastic glove.
Shapeways, a Dutch company that was founded as a spinoff in 2007 and expanded to New York in June 2012, doesn't sell the 3D printers itself, unlike the virtual store-cum-SoHo pop-up Makerbot. Instead, it offers a service for artists to create bespoke, one-of-a-kind jewelry and accessories from their machines, and then helps them move their products on Shapeways' own website.
The idea is pretty revolutionary, Shapeways head Peter Weijmarshausen pointed out in a keynote speech at the recent 3D Printing Expo. "We are surrounded by mass-produced products, but as humans, we like to customize and personalize our things," he said. "But after-the-fact customization is expensive. 3D printing technology offers the chance to merge the efficiencies of mass production with the ability to personalize so you can get exactly what you want. It's disrupting the very way we think about manufacturing." Such is the excitement about this "disruptive" technology that Mr. Weijmarshausen announced  at the Expo that Shapeways had just received a $30 million investment.
Shapeways' process works as such: Users upload their design files, and Shapeways prints out the actual objects. In addition to the objects themselves, designers can sell their blueprints to be 3D-printed on demand for customers. As an added perk, Shapeways offers to handle the financial transaction from designer to customer, with the profits going to the designer.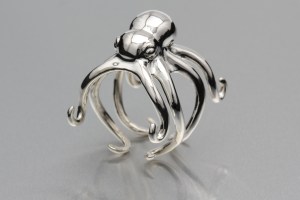 And 3D printing has been catching on in all areas, not just with a subset of fashion designers. The expo was filled with companies that make interesting toys, knickknacks, chess sets, even an electric guitar. Another booth showed how complicated auto parts could be 3D-scanned and reproduced. And accessories are also a popular item, with one jeweler hawking his wares. The Saturday before the Dita dress unveiling, Shapeways held another event at the Ace Hotel, a "jewelry bazaar" that included items from Ten Thousand Things, Ursa Major, Verameat, In God We Trust, Lindsey Adelman, Anna Sheffield and Chris Habana.
As for the dress, we asked Ms. Von Teese how it felt to be wearing the world's first 3D-printed outfit.
"I can honestly say I've never worn anything like it … it was incredibly form-fitting," she replied. "Look, it's not like a tracksuit, or something that I'd wear every day, but it fit exactly right, and the way it moved was…"
Ms. Von Teese paused for a moment to think of the adjective that best described the feeling of wearing the history-making apparel.
"Well, it was very interesting."
dgrant@observer.com