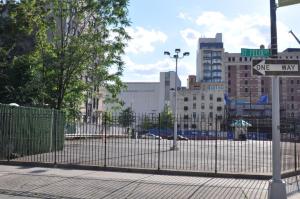 From the BAM Cultural District to Williamsburg, Brooklyn is undergoing a hotel boom. And pretty soon, all of those workers—or at least, the unionized ones—will have a new place to go for check-ups.
The New York Hotel Trades Council & Hotel Association of New York City, the city's leading hotel workers' union, and its Employee Benefit Funds just picked up a $19 million parking lot at 620 Fulton Street in downtown Brooklyn, on an irregularly-shaped lot bounded by Fulton Street, Ashland Place and St. Felix Street.
The site will soon be home to a new health, pharmacy and dental facility for the union's workers and their family members, which "will cost approximately $90 million to complete," Hotel Trades Council political director Josh Gold told The Observer, "and, like our state of the art facility in Harlem, will include first floor retail to generate income for the funds."
The new healthcare center will sit just one block east of a new 30-story hotel development at 95 Rockwell Place, in the Brooklyn Academy of Music Cultural District, to be developed by the Gotham Organization and DT Salazar.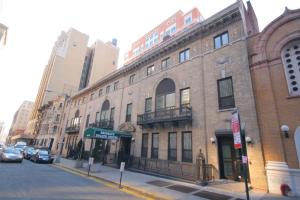 The Hotel and Trades Council has had a number of victories in Manhattan recently. Rezonings in North Tribeca, the Fur District north of the Meatpacking District and Hudson Square have all included provisions that mandate City Council approval for hotels, widely seen as a way of pressuring developers into making sure the new lodgings are union-run, and the union is pushing hard for a similar provision in Midtown East.
But though many of its workers likely hail from the borough of Kings, the council has seen less success in Brooklyn. Toll Brothers and Starwood have not committed to using union labor at the hotel planned for Brooklyn Bridge Park, and Brooklyn is already home to a number of limited-service hotels that don't use union labor, the cheapo McSams scattered across the borough being the most prominent.
The sale does leave us with one question, though, for which Mr. Gold did not provide any illumination: what does the council intend to do with its existing health center at 68-80 Schermerhorn Street, in a ritzier part of downtown Brooklyn near Brooklyn Heights? Currently housing a three-story prewar structure, the old health center has over 50,000 square feet of residential or commercial development rights.
Given the apartment buildings that have cropped up around it, we wouldn't be surprised if the old health center meets the same fate as its neighbors. And if it does, we hope they'll keep the façade, which adds some character that the booming neighborhood is otherwise lacking.