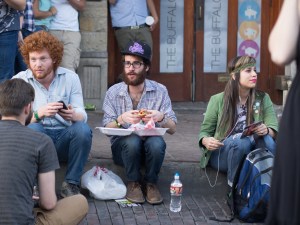 Hipsters, like nearly everything they wear, are officially no longer cool.
A nationwide poll has revealed that a large proportion of Americans not only dislike the cripplingly ironic sub-culture, but 27 percent even believe they should be subject to a special tax simply for "being so annoying."
The survey was carried out by Public Policy Polling, a distinguished research facility that correctly predicted the results of the last presidential election. The questions asked were not exactly unbiased; respondents were asked if they thought hipsters made a positive cultural contribution to society or "soullessly appropriated cultural tropes from the past for their own ironic amusement." A whopping 46 percent went with the latter.
It may be due to the fact that hipsters are now the most prolific of minor social groups, taking up whole neighbourhoods and filling hundreds of column inches. Half of all voters aged 18-29 consider themselves hipsters. It's hard to be a sub-culture when you're in the majority.
The study also revealed that one's cultural inclinations could damage political ambitions, with 98 percent of Republicans saying they would be less likely to vote for a hipster for political office.
However, if you're a fan of vintage T-shirts and fixies, all is not lost: 43 percent of those polled said they "weren't sure" about the whole hipster thing.
Public Policy Polling have yet to reveal the motivation behind the survey, although they have been branching out into more popular polls of late, recently revealing Justin Bieber to be the most unpopular modern singer.