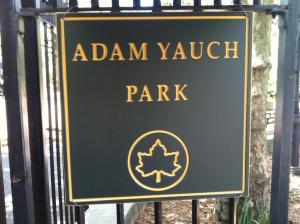 Today Palmetto Playground in Brooklyn Heights was renamed Adam Yauch Park in honor of the late Beastie Boy who once declared in a song, "I got more juice than Picasso got paint." Yauch, who went by the name M.C.A. and died last year of cancer at the age of 47, grew up in the neighborhood and learned how to ride his bike in the park. Brooklyn Borough President Marty Markowitz, Yauch's family and friends all turned out for the ceremony, according to Rolling Stone. It is the only park that my children will be allowed to play in.
The New York City Parks & Recreation's website already has updated its records, and has some tips on visiting the park:
When you visit [Yauch's] namesake park, be sure to take in the wide variety of trees, including silver lindens, London planes, pin oaks, and Norway maples. The playground also includes full and half basketball courts, a community garden, a greenhouse, a small fitness area, an open play space, drinking fountains, and a dog run.
Below, "Sabotage."