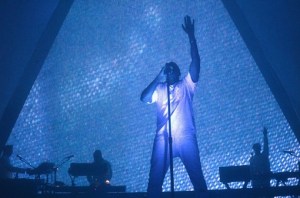 "Tru$t U$," read the sign behind the bar of the Roseland Ballroom last Thursday night, as a couple hundred reporters, ad sales reps, financial backers and celebrities crammed into the performance space to see the Adult Swim upfronts. Well, that wasn't exactly true—most people weren't there to see the new lineup of shows that will air on Cartoon Network, or to rub elbows with Lake Bell (Childrens Hospital), Paul Scheer (Filthy Sexy Teen$), Seth Green (Robot Chicken) or Aziz Ansari, who will be doing a voice cameo on Venture Bros. Instead, they were there to see the night's entertainment: Kanye West.
Somehow, Adult Swim, owned by Turner Broadcasting, has always managed to book the most impossible talent for its upfront events. Two years ago, Jay-Z performed a 50-minute set; last year, T.I. was the main draw. But something about booking Mr. West—who had been the star guest and musical entertainment at the Met Gala the previous week, and would be closing out the season of Saturday Night Live two days later, and whose new album (the title leaked to the press: Yeezus) drops June 18—was an extra-special get.

Mr. West performed on an awkward triangular structure which made it impossible for anyone except those in the very front row to see Yeezy go through the motions of hits like "Clique," "Jesus Walks," "All of the Lights" and several new tunes, including "Awesome." Whether the night's circus tent/bouncy castle of a set was some sort of commentary about the amount of ironic cognitive dissonance Adult Swim fans actively engage in, or whether Mr. West just didn't want anyone to see his listless performance (perspiring in front of a mic, mouthing lyrics), we may never know.
There was one portion of the evening when Mr. West decided to get real with the audience, indulging in one of his patented rants:
"So I don't want no people runnin' up on me with cameras, trying to, like, sell pictures and shit to magazines, asking me dumb-ass questions, throwin' me off my focus and shit. Harrassin' you all muthafuckin' day. I ain't no muthafuckin' celebrity.

"It's so funny. Somebody asked me, 'When you do SNL, are you going to do a skit about the paparazzi and shit. And like humanize yourself?' I ain't here to apologize to no muthafuckas, man. It ain't about me humanizing myself. At what point did I become un-human where I have to turn myself back? Or maybe I was demonized, or maybe I was treated inhumane and not human in that type of situation. I ain't no muthafuckin' celebrity. I ain't runnin' for office. I ain't kissin' nobody's muthafuckin' babies. I drop your baby and you muthafuckin' sue me and shit. I'm trying to make some music that inspires people to be the best that they can be. And I don't want nobody else to ask anything of me! Don't ask nothing else of me …
"Hell nah, I ain't doin no muthafuckin' SNL skits. This is my goddamn life. This ain't no muthafuckin' joke."
Whether this message managed to reach fans through the lenses of the cell phones held in front of their faces, it was hard to say.
Then again, maybe it doesn't matter what Kanye West says; it just mattered that he showed up. Over at the VIP bar, two older men from out of town were having a drink. After hearing that the Transom was in the writing business, one gave us a pitch for his own film.
"It's going to be like The Hangover, except it's about a finance guy from Kansas who goes to New York for the network upfronts, and like, meets all these celebrities and has all this random sex and gets caught up in the craziness of New York City," said the man, who happened to be a finance guy from Kansas.
"Oh, and I have another idea," he continued, "but it's much darker. It's about a group of guys on a bachelor party bus, which gets hijacked by a bunch of black thug terrorists."
"Wait, are they black thugs or are they terrorists?" we asked. The man looked at us, confused.
"What's the difference?"
We finished our drink and left, a little bit wiser as to what it was that made Mr. West so angry all the time.