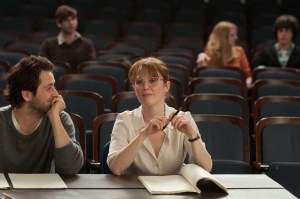 Julianne Moore, the non-stop queen of the low-budget indie-prod business, is back. She's made so many movies I've lost track of them. (The Internet lists 71 entries in 28 years, five scheduled for 2013 alone.) Most of them are real dogs, but she's always the best thing in them. Known for playing doomed, tortured or sexually twisted women in bombs that are best described as experimental cinematic lottery tickets, she rarely gets a chance to show her lighter side. This is a shame, because she has a delightful fizz just itching to uncork itself. The English Teacher is a sweeter entry in her versatile, overstuffed but checkered career. The cork pops at last.
She plays Ms. Linda Sinclair (note the Ms.), an unrequited over-40 spinster with high standards who lives a prim and lonely life of many disappointments and minimal prospects for romance—in other words, she's a schoolteacher in a small-town Pennsylvania high school. Her thrills come from Jane Austen and other therapeutic literary obsessions few actual men of her acquaintance can live up to. Enter Jason Sherwood (Michael Angarano), a former student who returns to town from a post-college spin as a failed writer in New York, knuckling under the pragmatic demands of a manipulative father (Greg Kinnear) who wants him to switch careers and go to law school. Jason has written a play, which he reluctantly shows to his old teacher after she mistakes him for a mugger and blinds him with pepper spray while filling up her car at the local gas station. Driving him home as an apology, she extracts a promise to let her read the play, called The Chrysalis. Naturally, she flips, calling it a masterpiece, and rushes it over to the school drama teacher, Carl Lapinas (Nathan Lane), a pretentious queen whose students call him "Mr. Penis."
Sick of a school board that is forcing him to direct The Importance of Being Earnest for the fifth time, "Mr. Penis" insists on replacing it with Jason's play, which he declares "timeless, relevant, universal in appeal," and sets elaborate plans in motion for a production design that will be "new Edwardian post-expressionist Gestalt—only colorful and fun." The two teachers' passion and exuberance end at the door of the bewildered and addlepated principal, a discombobulated scarecrow named Trudie Slocum (a hilarious turn by Jessica Hecht), and her bombastic vice-principal, Phil Pelaski (the fabulous Broadway star Norbert Leo Butz), who prefers Our Town and remembers the debacle when Mr. Penis directed Rodgers and Hammerstein's Oklahoma! with masks, in traditional Japanese Noh style. This new play has dirty language, violence, sex, and ends with a teenage girl who hangs herself, and her father, who blows his brains out. While Mr. Penis feigns fainting spells to direct his ultimate dream production ("sensitive, dark and deeply depressing!"), Ms. Sinclair succeeds in getting the play on the stage and the playwright out of his pants. What happens from that point on is less than plausible but more than amusing, pleasurable and entertaining. Sometimes it's just plain fall-down funny.
The English Teacher is best when it points out the naïve pretensions of academics who idolize the theater but think they know more about it than the professionals. Recalling his days as a struggling New York actor, Nathan Lane's Mr. Penis regales his students with embellished stories of how Stephen Sondheim offered him three words of advice that changed his life: "Keep at it." And working with Meryl Streep in Shakespeare in the Park when she uttered the immortal statement: "Speak up!" When his own students falter, he declares, "All great art comes from pain." Meanwhile, the production soars over budget and Ms. Sinclair takes control, paying for smoke machines, strobe lights and costumes out of her own bank account, censoring the four-letter words and re-writing the ending to the author's horror—finally landing in the hospital, in the arms of an attending doctor, who turns out to be the playwright's overbearing father. Corny, but it grows on you.
 Under Craig Zisk's frisky direction, the entire cast is superb and wrinkle-free. The screenplay, by husband-wife team Dan and Stacy Chariton, is thin as a poker chip but as clever as it is contrived. Julianne Moore gives her lightest, most endearing performance since Far From Heaven, and she has never been looser or lovelier. Even her silliest scenes are human and real, and watching her and Nathan Lane spin into butter is one of the year's happier experiences. You'll have to revel in the antics yourself to see how it all turns out in the wash, but Shakespeare's phrase "all's well that ends well" has never been truer. In The English Teacher, the charm oozes all over the place, and resistance is fruitless.
rreed@observer.com
THE ENGLISH TEACHER
Written by Dan Chariton and Stacy Chariton
Directed by Craig Zisk
Starring Julianne Moore, Michael Angarano and Greg Kinnear
Running time: 93 mins.
Rating: 3/4 Stars