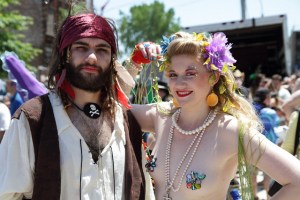 Coney Island's Mermaid Parade was nearly dead in the water, until Amanda Palmer saved the day. Maybe she's not so shellfish after all.
On May 25th, the cult musician and controversial web personality held a benefit at the Bowery Ballroom and managed to raise $10,000 for the parade's Kickstarter campaign. Thanks to Ms. Palmer, Coney Island will once again play host to an eclectic group of artists, musicians, intellectuals, and plain old weirdos decked out in skimpy mermaid-themed attire.
According to their Kickstarter, the Mermaid Parade was in trouble even before Sandy decimated the coast. As crowds grew, the event "had to contend with more regulations and restrictions that have sharply increased the cost of the event." Then Sandy swooped in and destroyed the property of Coney Island USA, the group that manges the parade, causing around $400,000 in damages.
Ms. Palmer's benefit gave the Kickstarter campaign a final push to the finish line, and the 30 year-old parade has now reached its $100,000 goal, with donations from over 2,300 individuals. Incentives included a "Freak Flag," temporary tattoos, a canvas tote bag, and a private, personalized Portapotty-slash-parade float, for a cool $5,000.
The parade will begin at 1 p.m. on June 22nd, an hour earlier than its usual start time. Adjust your calendars and starfish pasties accordingly.