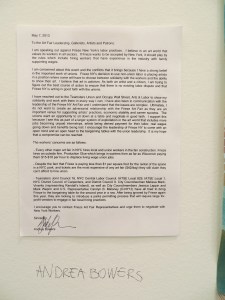 When the staff of Susanne Vielmetter Los Angeles Projects arrived at their Frieze New York booth this morning, they found a string stretched across the entrance and certain items missing. Artist Andrea Bowers, who became uncomfortable participating in the art fair after learning that certain unions were protesting its labor policies, asked the two galleries showing her work to display a letter alongside the pieces explaining her position. 
"Both of the letters were taken down at some point during the night," said Director of Sales Kevin Scholl. "When we got to the booth, they had been removed from the wall." The copy of the letter mounted on the wall in Milan-based gallery Kaufmann Repetto's booth was not touched.
Mr. Scholl said that the letter's mysterious disappearance and string could have resulted from a miscommunication with the cleaners, but that no one knows exactly what happened. "We're not too worried," he said. "We've printed it out again and it's back up on the wall."
"If it happens again tonight we'll definitely talk to the fair, but at the moment, we're thinking positively and assuming it was an accident," he said.
[UPDATE 4/10 5:18 p.m.] Mystery solved. "One of the fair managers came by the booth and explained that the security guards took the papers down last night," said Mr. Scholl. "They thought it was propaganda left behind." The string had been taped across the entrance to the booth because the gallery had designated that it did not want the space to be cleaned at night.