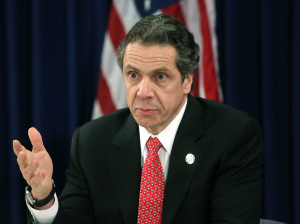 As the fallout from the recent slew of arrests of state legislators continues, Gov. Andrew Cuomo said Monday that he doesn't want what he dubbed "Scandalmania" hijacking his agenda.
"What I'm trying mightily to do is not allow the Scandalmania–'cuz you know how the press is with scandals and that becomes all-consuming–I don't want that to eclipse the session and I don't want it to derail the session because we have a lot of good work to do out there for New Yorkers who just want their government to function," said the governor during a radio appearance on "The Capitol Pressroom with Susan Arbetter."
"We have to be able to do both at the same time," he added. "Lets' deal with the reform agenda and deal with the quote-unquote scandals, but let's also do what we're supposed to do and get the government working."
Mr. Cuomo came into office promising to clean up Albany and restore public faith in government. But in recent weeks, the news has been dominated by non-stop headlines about the arrests of high-ranking legislators and investigations into lawmakers and former aids.
But Mr. Cuomo said that he intends to move forward with the remainder of his agenda–including plans to legalize casino gambling, restructure local governments and a women's equality package–as well as pushing a new round of ethics reforms.
"Because of the charges by the prosecutors, we're using the moment to come up with a reform agenda," he said.
Still, Mr. Cuomo geared down expectations, acknowledging the session had "gotten more complicated" because of the added "dimension." And he said that much of the work he'd hoped to accomplish this year is already done.
"Remember the context. We got most of our work done in the budget and before the budget, which is usually the way," he said. "But there are items that we have left for this session," he said.
But even the reforms are proving a challenge. Republicans have made it clear that they are against any type of public financing system–something Mr. Cuomo reiterated was "essential."
"I see it all as one," he said. "This is a complicated system and we're trying to close down the loopholes all throughout the system."
Mr. Cuomo also promised more transparency in the coming weeks, despite a recent report that lawmakers had demanded a state ethics commission scrub its report on the handing of the sexual assault allegations against Assemblyman Vito Lopez.
"The disclosure, first of all, it has been much, much better and it's about to get much, much better," said the governor, pointing to new financial disclosure forms that will be released on Wednesday. "I think the people are gonna be shocked."