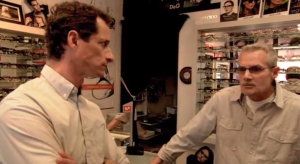 In Anthony Weiner's mayoral campaign announcement video, released early this morning, the former congressman visits a number of locations, including his childhood home in Park Slope, his current Park Avenue South residence and two small businesses in the Midwood section of his old congressional district.
"If you're trying to run a business on a neighborhood shopping strip like this one, you're drowning in regulations that nickle and dime you to death," Mr. Weiner says as he stands on the corner of Kings Highway and East 18th Street in southeastern Brooklyn. "The very people who put everything they had into this city are getting priced right out of it."
Politicker visited the two businesses in the video to see if Mr. Weiner left an impression after talking to the owners.
"I don't know," the woman behind the counter of Vesuvius Pizzeria–who identified herself as the owner's wife–said of the situation. "He came here, they were eating actually. I think he's trying to be a mayor or something."
We asked if Mr. Weiner had a prior relationship with her husband before showing up with television cameras.
"Not really," she answered. "First time we've seen him."
Charlie, the owner of Twenty/Twenty Optical next door, was left with a more memorable impression, however. He said Mr. Weiner was simply in the neighborhood last week and dropped by.
"I knew him from the past. I thought he was a good congressman," he said. "Told him about the Verrazano Bridge [toll]–it's too high. We discussed how that's very political and difficult to deal with, but I said. 'I don't care about any of that, you got to lower it.'"
We asked him if Mr. Weiner had earned his vote.
"I haven't decided yet," he replied. "Good chance. Good possibility. I think he's a real kind of guy. I think he's sincere and I don't see anyone else better! Somebody's better's got to come along. He's a Brooklyn guy; he grew up in the hood and I like that."
He expressed surprise when we told him he was featured in Mr. Weiner's mayoral announcement video today.