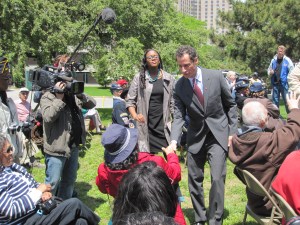 Anthony Weiner took one of his strongest shots yet against Mayor Michael Bloomberg Sunday afternoon, criticizing the mayor's attitude dealing with teachers and the teachers' union.
"Would any business treat its employees—meaning teachers—as badly as their boss is treating them?" the ex-congressman said following a Memorial Day service in Co-op City in the Bronx.
"It's frankly just not a productive way to be a boss. I'm not going to do that," he said. "I honor the teachers and contributions they make."
The comments came in response to a question from retired city math teacher Ted Wachtel, 64, who said he has been deeply frustrated by the mayor's attitude toward teachers. He asked Mr. Weiner for his thoughts on the city's expired labor contracts.
"It's reprehensible how the union members have been taking the brunt of all the problems in the city," Mr. Wachtel said.
But instead of bemoaning the situation like many of his rivals, Mr. Weiner said he was excited by the idea.
"The fact is that being this long without a contract is an opportunity for the next mayor. It really is," he said. "I mean, to be honest with you, I like the idea that if I'm fortunate enough to get elected, I'm going to have a chance to engage in these conversations fresh."
Mr. Weiner has proposed forcing city employees to pay a percentage of their health care premiums, which as he told Mr. Wachtel, would give him more leeway to boost salaries. Mr. Wachtel said he appreciated the approach.
"He makes some substantial points," Mr. Wachtel said of the former congressman, who was forced to resign from office two years ago in the wake of a sexting scandal. "People deserve a second chance … America is a forgiving country. And they forgave Clinton. And you have to just bone up and acknowledge when you do something wrong."
It was a similar response from many at the Harley Moseley Veterans Memorial Park, where about 100 had gathered for the annual ceremony. Mr. Weiner was greeted with warm embraces from audience members.
"Welcome back!" said one woman.
"Mayor Weiner, get used to hearing that," another echoed.
During brief remarks in front of the group, Mr. Weiner thanked the veterans for fighting to preserve American's freedoms, including the right of citizens to criticize politicians like himself.
Before the ceremony, Mr. Weiner had been munching on a pumpernickel bagel when Henry Newman, 78, a Korean War vet, whizzed by on a red motorized scooter and began to slam Mr. Weiner for supporting Obamacare, which he argued was stripping funding from his own benefits. Mr. Weiner quickly shot back, arguing that that wasn't the case. He recounted the story in his brief remarks to the group.
"I was sitting on the bench a moment ago having a bagel waiting for the commemoration to begin. Someone walks by, and he says, 'You're a bum. I would never vote for you because you voted for Obamacare!,'" Mr. Weiner said. "And I said to him, 'Happy Memorial Day.'"
"Somebody fought for your right to say that to me," he told the group.
Mr. Weiner had conspicuously chosen to attend the Bronx event instead of a Memorial Day parade in his old neighborhood of Forest Hills, Queens–where the chance of getting booed may have been higher. But Mr. Weiner brushed off the decision.
"I thought about it," he told reporters when asked why he'd skipped the event. "We've been invited to a lot of places. They had invited me here. I'm going to be getting to every corner of the city. And there are going to be places, frankly, I'm not going to be able to get as much as I would like."
But otherwise the reception was positive.
Jerome Rice, 51, the commander of the American Legion Co-op City Post 1871 group, which organized the ceremony, said he was "shocked" Mr. Weiner had decided to show up, but was also pleased he'd jumped into the race.
"My concern right now is the quality of candidates," Mr. Rice said, expressing frustration with two of Mr. Weiner's competitors: City Council Speaker Christine Quinn (whom he criticized for her opposition to certain aspects of the Community Safety Act) and former Comptroller Bill Thompson ("Where has he been?" he asked). While he's still undecided, Mr. Rice said he was a big fan of Mr. Weiner when he was in Congress "doing all that yelling."
"New York is a tough town and we need a tough leader," he explained.
Even the critic, the scooter-riding Mr. Newman, later said the scandal wouldn't influence his vote.
"He's too God-damned far left," said the vet, who acknowledged that Mr. Weiner had been "pretty pleasant. That thing with his internet, that don't bother me. It's his politics."