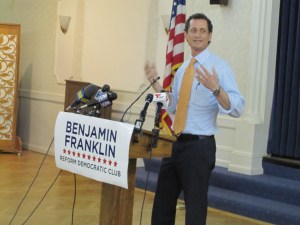 After a frenzied meet-and-greet with commuters in Harlem, ex-Congressman Anthony Weiner made his first appearance–that we know about–at a mayoral forum last night in the Riverdale section of The Bronx, where he tried to make a case to voters about why they should consider electing him again.
"For me, it's good to be anywhere," Mr. Weiner told members of the Benjamin Franklin Reform Democratic Club–one of the few clubs he said endorsed him back in 2005–a day after formally jumping into the race with a video posted on his campaign website.
But, as with the earlier event, Mr. Weiner brought with him a media entourage that had some club members fuming. As he entered the room, a crush of photographers and cameramen rushed to surround him, creating such a disruption that the moderator tried to intervene.
"We want to give equal attention to everyone in the room," she urged the group. After he sat down, club members moved in, trying to build what they described as a "human wall" to block cameras from getting a shot and to pay attention to the other candidates, who largely ignored Mr. Weiner's presence aside from a couple of jokes about the number of reporters suddenly taking interest in Bronx politics.
When it was his turn to speak, Mr. Weiner delivered much the same message as he had in his campaign video. He repeating his concerns about the growing stresses on the middle class, and criticized his fellow Democrats for spending too much time talking about how they differed from their opponents instead of focusing on ideas. He also addressed that other issue: the lewd tweeting scandal that forced him to resign from congress two years ago.
"I'm sorry," he told the audience. "You put a great deal of hope and confidence in me and I did some very embarrassing things. And I regret them. And I've worked very hard over the past couple of years to make it up to my wife, to help raise my son as best I can, but I want to look forward."
Mr. Weiner, like the other candidates, took questions from the audience. The newly-minted candidate was asked about his legislative record, the viability of the single-player healthcare system he wants to implement, and state of the city's subways. (He proposed expanded ferry service as an alternative–including new service out to the airports–and argued ferries would have been much cheaper and faster than building the Second Avenue Subway.) Overall, the reception was warm–with some laughs and applause.
But later, audience members told Politicker that, while they were largely impressed by Mr. Weiner's performance, they couldn't stop thinking about the elephant in the room.
"I was very impressed with him, but I kept thinking about his behavior," said Hilda, a senior who lives in the neighborhood, referring to the pictures she saw splashed across the papers. "His behavior is very hard to understand," she said. "I think you have to have a lot of gall to put yourself before people like this" after that.
Eleanor Oliff, a member of the club's executive board, said the appearance had done nothing to sway her in his direction.
"I don't think Weiner has a chance," she said, expressing her preference for another mayoral hopeful, City Council Speaker Christine Quinn.
"He seemed energetic, but he still need to talk about specifics," said another member, echoing the sentiment. "I think the indiscretion is still on my mind."