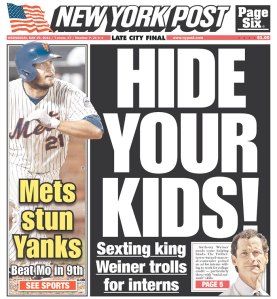 This morning, the New York Post took a strong jab at Anthony Weiner, running a front-page story on his mayoral campaign's online internship posting under the headline, "HIDE YOUR KIDS! Sexting king trolls for interns."
The story itself, which called him "Twitter terror," bellowed a similar message. "TAKE COVER! Weiner casts net for young aides," it said of Mr. Weiner, whose political career took a tumble after a 2011 scandal. "Calling all co-eds — sexting king Anthony Weiner wants you!"
Mr. Weiner, doing a round of local morning shows today, was twice confronted with the story by skeptical hosts inquiring about the impact of innuendo-filled stories circulating the city's newspaper stands.
"The problem that you continue to face," PIX11's Kirstin Cole told Mr. Weiner, "is with headlines like this. The voice of your detractors can tend to be pretty loud. Here, I mean, you're getting dogged just for putting an ad out for interns, which is something that anybody in political office has!"
The former congressman agreed but said the electorate simply isn't interested in these sorts of headlines.
"It seems that voters really care about other things than whether or not you are posting for volunteers for your campaign," Mr. Weiner offered. "I'll leave that to the voters to decide. It's not going to be up to headline writers, or you, or even me."
He proceeded to tick off policy issues–education, affordable housing, and jobs–but said if the voters were interested in his internship postings he'd discuss that too.
"These are things I think citizens are going to decide," he said. "But if someone wants to talk to me about whether or not we put a posting on a list to find volunteers for our campaign, then they're welcome to do it."