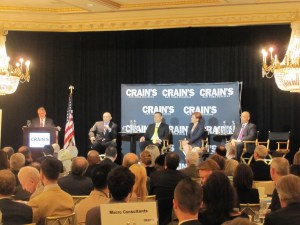 Anthony who?
Scandal-scarred former Congressman Anthony Weiner may be splashed across news sites and television screens across the city, but his new opponents were reluctant to weigh in on Mr. Weiner's mayoral bid Wednesday morning–hours after he officially jumped into the mayor's race with a video posted on a re-vamped website.

City Council Speaker Christine Quinn literally refused to mention Mr. Weiner by name as she was bombarded with questions from reporters before a Crain's New York Business mayoral forum in Midtown. Instead, she returned to her own record again and again.
"This race–I don't care who's in it–is about what the candidates have done for New York's middle class and what our vision is for New York's middle class moving forward," she said. "I don't care who enter the race. Nobody has a better, stronger, clearer record of delivering for working class and middle class New Yorkers than I do."
Ms. Quinn, whose chance of avoiding a run-off has likely been decimated by Mr. Weiner, said it was up to voters to decide whether they could get past the former congressman's sexting scandal. All that mattered to her, she said, was making her case.
"Why should I talk about anybody but myself? I'm the one running for mayor, here!" she exclaimed. "My opponents, with all due respect, aren't the question. The question is my record of having delivered for New Yorkers and my specific set of plans."
Former Comptroller Bill Thompson, who is generally thought to benefit most from Mr. Weiner's entry, far more welcoming.
"Welcome aboard," he said on the topic, arguing that anyone who can add to the conversation will be an asset to the race. "I think that former Congressman Weiner can bring some ideas to this discussion, hopefully add to the dialogue that we're having about New York City and what the next mayor of the city of New York is gonna do," he said.
The candidates were later asked about Mr. Weiner's record on stage during the forum, which was attended by four of the major Democrats. Is he qualified to be mayor "by temperament and experience," moderator Greg David asked.
"I think that that is going to be up to the people of the City of New York as they judge all of us during this election season," said Mr. Thompson. "So it isn't for me. It is up to the people of the City of New York."
Ms. Quinn agreed. "What I think the voters are really concerned about is making sure that the next mayor is someone who … actually has had a record during their career in government or their career in the private sector of actually delivering for New Yorkers," she said.
City Comptroller John Liu was more blunt: "Honestly, I won't be voting for him," he said in a less-than-stunning revelation before pivoting to his own record. He later told reporters he was sick of the hype surrounding Mr. Weiner and was eager to talk about more substantive issues.
"Now that he's made it official, hopefully this media circus will end and we can start talking about schools, public safety and affordable housing," said. "Any issue is a fair game."
Former Councilman Sal Albanese was the only candidate willing to take a shot, attacking Mr. Weiner as "just another career politician" with what he described as "some additional quirks"
Public Advocate Bill de Blasio skipped the forum to attend an endorsement press conference with the Communications Workers of America District 1. His spokesman did not immediately respond to a request for comment about Mr. Weiner's decision to enter the race.