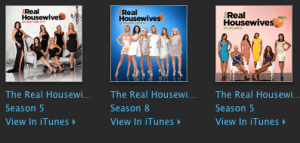 Did you wake up today thinking that winning a $10,000 iTunes gift card could help your crappy life? You're in luck! Apple is giving away that awesome prize to whoever downloads the 50th billion app at its store, which is expected to happen sometime later today. Just like your third-grade softball league, Apple is also giving away a $500 gift card to those who come in second through 50th place after it reaches its goal.
Apple has played this trickery in the past, too. When the App Store logged its 10th and 25th billion download, winners received a $10,000 gift card (big whoop). Geek.com notes that the App Store's downloads is still growing despite competition from other outlets, like Google Play. In January 2011, the store hit 10 billion downloads; and a mere 14 months later, the 25th billion app was downloaded.
So, have fun buying all those apps you don't need today for a gift you'll never finish. There's so many seasons of the Real Housewives (like the crappy D.C. season) waiting for you in the iTunes store if you're successful.