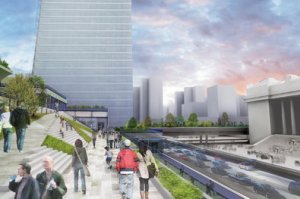 The press release from a publicist trumpeting some scintillating (or often, not so scintillating) "news" that was broken hours earlier in a Wall Street Journal or New York Times exclusive—what journalist doesn't hate that? Of course, such breathless communiqués hardly ever make mention of the fact that all of the information being "revealed" is already available in a rival publication and has, at that point, usually been blogged about by several other websites.
It's a thorn in the side of every journalist—that is, every journalist who doesn't work at the Journal or the Times—an indignity that is usually borne with under-the-breath invective, some grousing to one's immediate neighbors and an occasional, pointed email to said publicist informing them that your publication would have been interested in covering this had the Journal not published a story on it hours earlier saying everything there was to say.
But when one such invitation landed in Architect's Newspaper editor-in-chief and founder William Menking's inbox recently, he decided to take the responsible parties to task, copying a number of other real estate and architecture reporters on the email.
The "news" in this case was the release of four renderings for a new Penn Station and Madison Square Garden. The renderings—which the Municipal Art Society invited SHoP Architects, SOM, H3 Hardy Collaboration Architecture and Diller Scofidio + Renfro to submit last month—are entirely hypothetical given that the City Planning Commission recently approved a new 15-year permit for Madison Square Garden, but it's the kind of splashy gesture that newspapers and design fiends really like. The only problem with inviting the press to an unveiling of the renderings and discussion on Wednesday morning was that they had already been unveiled in the Times the night before.
"Well, MAS did not start off very well. They invited all the media in town to a press conference this morning but the New York Times already had the story in the morning edition," Mr. Menking wrote. "This used to happen in the old days and of course the Times asks for exclusivity but I and the Architect's Newspaper won't take part in a 'discussion' when the Times is the only one in line. Maybe you can relay how 'this flow of information' is pointedly already determined by their behavior and is really planning from the 'top down' rather than 'the bottom up.'"
Why, Mr. Menking asked The Observer when we spoke on the phone, should he waste his time going to a press conference when the news has already been broken? "We're a newspaper. We break news. Once it's out there, it's no use to us. Why should we come up there when the Times already has the story?"
To add insult to injury, the press unveiling was even held in the New York Times building, all the better for journalists to contemplate the fact that they'd be reheating leftovers when they published the story.
Of course, it's no secret that the city's publicists guard their exclusives jealously and shop them around from the top down, taking the biggest fish that will bite. The Observer has been told, on more than a few occasions, that the publicist wishes they could be more fair when distributing juicy tidbits, but that The Observer simply cannot compete with size and scale of the Times' readership. And naturally, no one can blame the Times—what reporter wouldn't snap up a good exclusive? But it's still incredibly irksome to be given the scraps as if they're some kind of gift, especially when the implication is that your paper won't mind publishing a story second-hand or that you're such a bad journalist you don't even know that the story's already out there. Nor does the boast of a "scoop" mean much of anything when it's being spoon-fed to a small cadre of journalists by virtue of the paper they work at, rather than any reporting or digging on the journalist's part.
In Mr. Menking's case, it wasn't even the invitation that inspired his snappish response. It was architect Hugh Hardy's follow-up later that evening (shared with us by Mr. Menking), which started off by noting that "The New York Times seized exclusive rights to the Municipal Art Society's presentation"—first of all, not great to lead with, and secondly, can a publication really be said to "seize exclusive rights"?—then went on to say how the ongoing discussion and evaluation in the public was no less important as "MAS is hoping informed public discussion and analysis will lead to recognition that the large scale problems presented by Penn Station require large scale thinking and funding."
A populist stance that Mr. Menking scoffed at given MAS's method of kicking off the discussion. "They say they want this feedback, but they're trying to direct the message," he said, adding that he's received a lot of commiseration from other journalists, but no response yet from either MAS or Mr. Hardy.