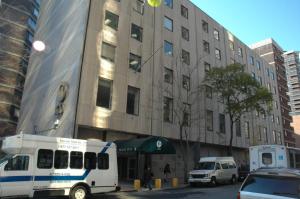 Along its most institutional stretch between the East Village and Murray Hill, the condos First Avenue is best known for are medical, not residential. From Bellevue to NYU, it's a place where people want their stays to be as brief as possible.
But with Manhattan's residential market coming roaring back to life, developers are setting their sights on the island's less-developed fringes. New York's first modern micro-apartments are going up on a city-owned site at 335 East 27th Street and Michael Stern's JDS Development is nipping at the heels of Kips Bay, with a two-tower, 800-unit project set to break ground this summer at an old ConEd site at First Avenue between East 35th and 36th Streets.
"The  neighborhood is crying out for something modern and upscale," he told the Wall Street Journal in March.
And now 40 North, a press-shy wealth management firm with offices on the 30th floor of the ultra-prime Solow Building, is plunging straight into the heart of the hospital district. The firm just picked up a $32 million chunk of land on the southeast corner of First Avenue and East 24th Street.
The management firm bought the property, currently a housing a nondescript medical office building from the 1960s at 340 East 24th Street and an adjacent parking lot on the corner, from the International Center for the Disabled, which began searching for a buyer for the property last year.
"It would make an ideal site for a residential condo or rental for young professionals and area workers," a Jones Lang LaSalle broker told the New York Post, "and is also an attractive opportunity for a user or tenant seeking a strategically located facility." The property sits on a cul-de-sac, as 24th Street is broken between First and Second Avenues by a pedestrian plaza.
Given the buyer's background —the Winter family is reportedly an investor in 40 North, and David S. Winter calls himself a "managing principal"—we're guessing that the property is destined for residential development. The two parcels allow for a building of around 110,000 square feet as of right, or 132,000 square feet with an affordable housing bonus. But as the firm did not return a request for comment, we'll have to wait for the Department of Buildings filings to say for sure.