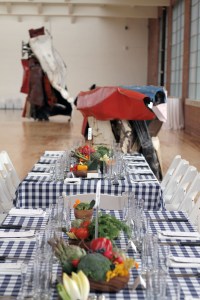 The mood at the Dia Beacon benefit on Sunday should have been dreary. In the basement of the old factory in Beacon, a man and a woman read years past and future into an empty, columned parking lot, a piece by On Kawara that, coupled with the nature of Sundays, threatened to lend to the proceedings a literal undercurrent of ennui. Plus it was raining.
Instead the collectors, artists and dealers who mingled on the first floor seemed content, their spirits lifted by the bloody marys at the door and, undoubtedly, the architecture of Robert Irwin, who was honored at the lunchtime gala.
"If I had a dollar," Dia Director Philippe Vergne said in his welcome address, "for every time someone told me, 'God, the light is beautiful, God, the space is so fluid, God, there's a certain je ne sais quoi about Dia Beacon that makes the experience so clearly in the service of the art…'" Here he trailed off. The point was, he said, most people seem to attribute Beacon's success to a lack of human intervention, "and they're wrong." Such was the soft touch of Mr. Irwin, who declined to comment except to say that he actually hadn't been back since he built the thing.
"Yeah, so, he has a really big penis," said Timothy Greenfield-Sanders, finishing a story as I approached ("We're talking about Philippe," he joked, after I said I was a reporter). Everything really does look better at Dia, lighting-wise, the photographer said, except perhaps the Warhols that surrounded us at that moment. "And I love Warhol more than my mother."
"If we're talking about light, the Agnes Martins do so well here," said his daughter Isca, also an artist. "Because the light changes the painting." Mr. Greenfield-Sanders agreed, and he'd seen the works currently on display in something like ideal circumstances.
"These paintings I've seen at her house," he said. "In a barn, she had a barn—they look better here—but it had kind of a skylight. She gave me a Valium. We each took a Valium and sat there looking at her paintings, and then we had lunch."
"Does a minimal painter only take minimal drugs?" asked Isca's husband, Sebastian Blanck.
"Right," Mr. Greenfield-Sanders said. "It was a blue one, I think that's only five milligrams."
Mr. Vergne had also talked up another Dia project during his introduction: Thomas Hirschhorn's monument to Antonio Gramsci, which opens at the Forest Houses projects in the Bronx this summer. Mr. Hirschhorn, Mr. Vergne said in his address, had taken a break from hauling "thousands and thousands" of wooden pallets to the Bronx to spend the day in Beacon.
"Philippe," Gavin Brown said as the reception wound down, greeting the director with a complicated handshake that required some snapping and instruction on his part. "I'm never going to the South Bronx."
"Oh, you live in Harlem anyway," Mr. Vergne said. "So shut up."
You guys Yankees fans?
"Is that basketball?" said the Brit.
"No, iz ice hockay," said Mr. Vergne, heavily frogging his accent. "You know, I was a figure skater when I was a kid." He turned to Mr. Brown. "I know you might not be surprised."
"Next year I want you to make your remarks on a cordless mike," Mr. Brown said, "Skating around the room."
Then everyone scooted to a well-lit room around the corner to eat lunch amid the John Chamberlains. Valium was not on the menu. —Dan Duray