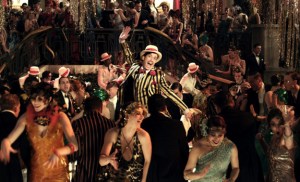 Great Giggling Gatsbys! After taking a hit for over-romanticizing the gaudy decadence of the roaring twenties in hist latest film (and subsequent press tour), director Baz Luhrmann spoke to The Observer at Lamb's Club Tuesday night during The Cinema Society, Brooks Brothers and Town & Country's after party for The Great Gatsby. Apparently, we should just all chill out and not think so hard about the implications of reveling in the excesses of high society, despite the film's moral statement against such extravagance.

"Sometimes a party is just a party," said the Australian director, co-opting the famous Freudian-attributed quote. Mr. Luhrmann had spent the night prior attending the much more oblivious, irony-laced Met Gala.
Whether or not he was including that night's function into his analysis, or merely talking about the bacchanals provided in the 3-D film is something we were left wondering: The director had flitted off to a new subject before we had time to say "We love Moulin Rouge!"
It should be noted that the not all attendees had the same hangups that we did about living in the moment: Lady Gaga showed up late to the screening, and according to at least one attendee, was carrying a six-pack of beer in her posse.