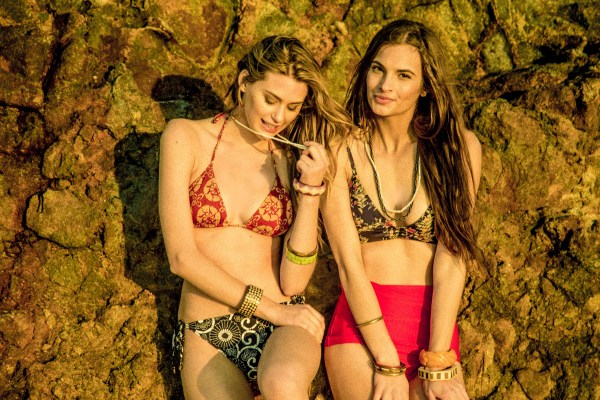 Twin brothers Mike and Alex Faherty are not your typical beach bums. Mike Faherty spent seven years as a designer at Ralph Lauren; Alex worked as an investment banker before becoming a vice president at a private equity firm. Yet, having grown up in the coastal town of Manasquan, N.J., their favorite childhood memories were made at the shore: navigating the waves atop a surfboard or paddleboard, and holding summer barbeques at their laid-back family home.
Now, with the creation of Faherty Brand, the duo's new luxury swimwear line, the boys are going back to their oceanside roots. "To us, life's great moments happen at the beach," Mike says. "We want to bring that beach vibe to New York City." 
In April, Faherty Brand's showroom opened for business. In an airy loft space in the Flatiron District, brightly patterned swim trunks and bikinis hang from shelves made of reclaimed barn-board, while nautical touches like model boats and glass buoys lie scattered among them. A surfboard is propped against one wall while hand-dyed Indonesian fabrics cascade from another. Entering this space feels a bit like stepping into another, much more laidback world, far from the buzz and bustle of Fifth Avenue.
"We want to be like transporters," Mike says, "so that when people think about our brand or wear our brand, it takes them away from everyday rigors."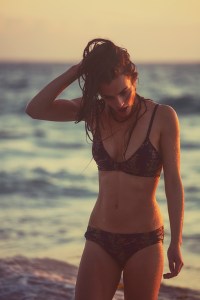 Faherty Brand has been a life-long dream for the brothers—albeit one that took some time to get off the ground. "I actually wrote my college essay on starting this company," Mike says. The self-described "left-brain twin," Mike honed his fashion sensibilities studying fashion design at Washington University before taking a job as a designer at Ralph Lauren. (Side note: both twins are model-handsome, so much so that once, during an elevator ride with Ralph Lauren, Mike was told by his boss that he should go into modeling. He politely declined.)
Meanwhile, Alex, "the right-brain twin," went to Yale and worked in investment banking before becoming a V.P. at private equity firm Cerberus Capital. Both decided to quit their jobs last year to focus solely on developing Faherty Brand. For Mike and Alex, corporate and fashion-world glory were only steppingstones to get back to the beach.
"We're not guys who are driven by money," Alex adds. "For us, it was more the passion behind this lifestyle."
Growing up in board shorts, the twins were always frustrated with the lack of men's swimwear options that were both cool and functional. "There was never a brand out there that we really identified with," explains Alex.
With Faherty Brand, Mike and Alex were able to envision a line of swimwear that discerning urban fashionistos would want to don at their beach houses or on trips to more far-flung coastal locales, while simultaneously showcasing the comfort and utility that they, as surfers, demanded from their trunks. In the design process, no stitch or button was too small to merit consideration, with Mike perfecting minute details from the depth of the pockets to the length of the drawstrings. "We're addicted to the details," he says.
Mike and Alex remain avid surfers, and their  designs take inspiration from places visited during surf trips around the world. One can find the influence of Indonesian batiks, Kakishibu-dyed Japanese textiles and hand-blocked Rajasthani Indian prints.
Faherty Brand's commitment to style is matched by an emphasis on sustainability. In lieu of the cheaper petroleum-based synthetics favored by most designers, the Faherty team designed a unique synthetic fabric made from recycled plastic bottles, which are melted down and re-spun as yarn. There are around seven recycled bottles in each woman's suit and around 15 in each pair of men's trunks.  "We want to bring awareness, because the apparel industry is quite destructive when it comes to natural resources," explains Mike.
Right now, Faherty Brand can be purchased online at www.fahertybrand.com or in their showroom. But as of May, they will be debuting a pop-up store from which to spread their endless-summer lifestyle. With the help of an architect friend, Mike and Alex have designed a "beach shack on wheels," a trailer made with reclaimed barn-wood that collapses open to form two porches. This summer, Mike and Alex are road-tripping through the United States, trailer in tow, peddling Faherty Brand on the nation's beaches and boardwalks.
Come summer's end, they plan to debut a more extensive casual clothing collection, with unisex flannel button-ups and organic cotton tees. But—if you had any doubt about their beach-bum bona fides—don't expect to see Faherty Brand being promoted at a runway show.
"We'll do something renegade, something that feels not like what everyone else is doing," Mike says with a laugh. "Something with lots of sand, probably."
asilman@observer.com