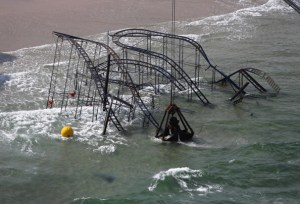 A new thrill ride on the Jersey Shore will be named Super Storm, so that riders can remember how much fun it was when Sandy ravaged the coastline and destroyed their homes.
The spinning, pendulum-shaped ride, which is slated to be open sometime before the Fourth of July, will help replace some of the iconic attractions that were destroyed at the Jersey Shore's Casino Pier. Five rides were totally lost, and others were damaged beyond repair when Superstorm Sandy hit last October, a spokesperson for Casino Pier told The Observer.
Sandy also resulted in the deaths of 135 people along the East Coast, and destroyed countless homes and buildings.
"I can understand people having mixed feelings about having a name like that," said the spokesperson. Still, the amusement pier insists that the name should reflect the strength of the Jersey Shore, rather than memories of suffering.
"We thought [the name] would be a symbol of the resilience of the Jersey Shore—how strong the people of New Jersey are after they've gone through this," the spokesperson said, "We think that showing that strength is a good way to move forward and work towards recovery."
She also noted, "Due to the thrill ride aspect of it, and you know, how the ride runs and [the] ride experience, we were looking to pick a name that would go along with that … Storm names are popular in the ride industry."
Seaside Heights Mayor Bill Akers publically supported naming the ride after the devastating storm. "We hope that it's perceived in a positive way, that we're back, we know the force of Mother Nature, and that we respect that, and this is our way of celebrating," he said, according to the Wall Street Journal.
Who knows? By the end of the summer, the Jersey Shore might introduce other new disaster-themed attractions like "Cicada Attack" or "The L Train on a Tuesday at 9am"