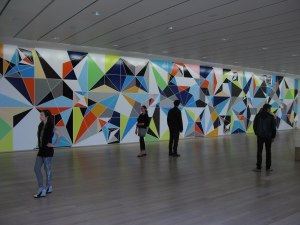 In April of 2009, the Swiss-born, half-South African origami artist Sipho Mabona sent an email to Dr. Robert J. Lang, a distinguished ex-physicist who lives in California and is now a self-described "leading master of the art" of origami. The two knew each other from around the origami scene, which is relatively small and every now and then assembles its international members for conferences and competitions—the heated Bug Wars of the 1990s, for example, where practitioners submitted their increasingly realistic insects to a panel of Origami Detectives in Japan over a number of years.
"Hello Dr. Lang," Mr. Mabona's email began. "I just wanted to ask if you are familiar with Sarah Morris's artwork?"
Dr. Lang wasn't. Mr. Mabona wanted to draw his attention to the cover of that month's Wallpaper magazine, which featured one of the Pantone-style geometric paintings from the artist's origami series, titled Angel (2009). Its lines, Mr. Mabona had noticed, were identical to that of a two-dimensional origami diagram by origami artist Jason Ku, called "Harpy," which makes a human figure with wings when folded.
Mr. Mabona had noticed that several of Ms. Morris's paintings from the origami series were based on designs Dr. Lang had published in books or on his website. Dr. Lang responded to the first email a few hours after Mr. Mabona sent it, having found out what he could about Ms. Morris's work from Google.
"I'm of mixed feelings about this," Dr. Lang wrote. "On the one hand she is clearly creating new works of art that can stand on their own merits (as opposed to merely copying something and passing it off as her own). On the other hand, I'm not so crazy about having my own work described as being merely 'found diagrams' as she's done here."
The resulting lawsuit, in which Dr. Lang led five other origami artists alleging violation on 25 copyrights across some 40 works by Ms. Morris (nine of them held by Dr. Lang), was settled two months ago, meaning that no formal precedent was set. But the case revealed much about the culture of ever-proliferating art world appropriation lawsuits, and gave a rare glimpse into the world of professional origami.
The decision for Ms. Morris to settle came after Judge Katherine B. Forrest made the unusual move of sending the case to trial by jury, which, given the complicated (though generous) American standards of fair use, meant Ms. Morris's chances of winning were slim. Moreover, juries don't set precedent, so Ms. Morris wouldn't have been fighting for her fellow artists, limiting the scope of the case and her incentive to proceed with it.
"In a way," Ms. Morris said recently, seated in a hard-backed chair at her Chelsea studio, "Judge Forrest copyrighted my case."
Most serious origami practitioners seem to believe that the future of the art lies in complexity. Where folds used to number in the tens, it's now more common to have hundreds. Dr. Lang can do Jimmy Carter. Nicola Bandoni has designed a pair of disturbingly accurate human hands. Only when the groundwork has been laid for greater expression, most seem to believe, will origami outgrow its origins as a magician's trick or childhood distraction.
This was the whole idea of the Bug Wars: that it might one day be possible to make a bug as intricate as in nature from a single sheet of tissue. "It's like math," Dr. Lang told Susan Orlean in her 2007 profile of him for the New Yorker. "It's just out there waiting to be discovered. The exciting stuff is the stuff where you don't even know how to begin."
Sarah Morris didn't appropriate origami, but diagrams used for fold planning, known as crease patterns. Origami artists might design CPs before or after the completed shape has been folded, and then publish them, for bragging rights or to augment collective origami knowledge. Dr. Lang has devised something he refers to as a SSBB, or six-sided bird base, that might be incorporated into CPs for various species of paper birds. Dr. Lang and Mr. Ku, who became another plaintiff in this case (along with Noboru Miyajima, Manuel Sirgo, Mr. Bandoni and Toshikazu Kawasaki), ran a column called "Crease Pattern Corner" from 2005 to 2007 in The Paper, a magazine published by Origami USA.
CPs have a significance that is hard to define outside the origami community. On his website, Dr. Lang sang their praises in an entry that began: "Within the last ten years, a new form of written instruction has become ubiquitous within the modern art of origami: the crease pattern (often referred to by its abbreviation, CP). Conventional origami diagrams describe a figure by a folding sequence. CPs, by contrast, provide a one-step connection from the unfolded square to the folded form, compressing hundreds of creases into a single diagram. Small wonder, then, that to many people, the CP as a form of origami instruction is more than a little reminiscent of a famous Sidney Harris cartoon in which a scientific derivation is described by the phrase 'then a miracle occurs…'" Dr. Lang has been an advocate of CPs and even gives away a program he designed called Treemaker so that more folders will use them.
Similar ideas about the craft's increasing scientific and artistic complexity led Ms. Morris to want to make the painting series. She'd long been an origami practitioner and had just finished a short film shot in Beijing at the time of the 2008 Olympics. She'd been thinking a lot about Blade Runner, where Harrison Ford's discovery of an origami unicorn at the end of the movie implies that he may be an android. "It's a sign of the future," she said, "a quite ominous future."
CPs, which convey space and information through geometry, had an obvious connection to her practice of geometric, abstract painting. Ms. Morris and her assistants began collecting them from books, websites and Flickr. The lines in the resulting works are identical to the CPs that inspired them, though they are larger (many of Ms. Morris's paintings measure around 8 feet square) and painted in her signature color pattern.
"I use all types of things in my work," she said. "Industrial design, mapping, instructions, geometry—I am creating a physical space in these paintings." She'd already flirted with appropriation, using building designs and the cover of Roxy Music's The Atlantic Years in various pieces. "I never thought for a moment that I couldn't use this as a touchstone or as a launch pad for my work."
"And basically," she added, "it's a spatial algorithm, which of course my paintings are not. They're flat. They're known for their flatness. They're known for their color. So to me, phenomenologically, they're completely and utterly different. Did I use their work? Absolutely. You know? So I never contested that I had used it. It was more like: do I have the right to use it?"
Dr. Lang et al. didn't think so. "I am pursuing legal action against her," Dr. Lang wrote to Mr. Kawasaki, who would become a plaintiff in the complaint filed in April 2011. "She has sold these paintings for very large sums of money—in the tens of thousands of dollars—and so I believe it is worth the cost of legal action to seek a settlement."
Julie A. Ahrens, Director of Copyright and Fair Use at Stanford Law School's Center for Internet and Society, who joined Ms. Morris's legal team more or less pro bono, said she saw the plaintiffs as financially motivated. She said they acted as though they'd discovered a "lottery ticket," with similar undertones found in ethnographic photographer Patrick Cariou's high-profile lawsuit against Richard Prince, which Mr. Prince had lost in early 2011 (a Second Circuit court later overturned that decision). The depositions of the plaintiffs would bear this out: Mr. Ku is a graduate student, Mr. Miyajima has a day job, and in December 2008, Dr. Lang sold a commissioned origami work for $150 ("My financial situation then, as now, was sufficiently comfortable that I had no need for a 'lottery ticket,' he wrote in an email).The difference is that Ms. Morris's highest-selling work was auctioned for $162,000; Mr. Prince's record is $8.45 million.
And ethnographic photography seemed more protected from fair use than CPs. "In the spectrum of highly protected to lower-protected, they're definitely on the lower end of the scale," Ms. Ahrens said.
Ms. Morris's lawyers struggled to pin down the aesthetic value of the CPs during the proceedings. They were not considered art objects on insurance documents when the Museum of Modern Art showed them alongside completed origami in its 2008 exhibition "Design and the Elastic Mind," though people do occasionally buy them as prints.
"I'm trying to develop an elegant crease pattern here," Dr. Lang said in his own deposition, "and elegance is an aesthetic property." That elegance would be similar, he said when further questioned, to that of a good equation.
The plaintiffs had something else to gain in suing someone they perceived as a gatekeeper: entrance to a world of art history and galleries as alien to them as their practice is to it. When displayed, Ms. Morris's works will now credit the creators of the CPs on wall labels.
"In the commercial art world (e.g., advertising)," Dr. Lang wrote in an email about the case's implications, there "seems to already be a reasonable understanding of the need to get permission before using an [origami] artist's work. In the fine art world, cases like ours might heighten the level of awareness of the principle."
That no precedent was set here seems fitting enough for a case that involves the ephemeral art of paper folding. Though Ms. Morris did say that a friend pointed out to her that a group of origami zealots suing an artist was just about "the 'least zen' thing he'd ever heard."
dduray@observer.com