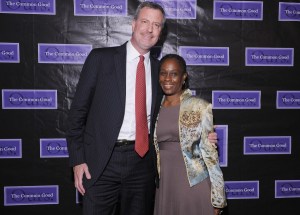 In December of last year, Politicker published a seven-page 1979 Essence magazine article where Chirlane McCray, the wife of mayoral candidate Bill de Blasio, frankly discussed her identity as a lesbian. The news made waves, amplified by a New York Post cartoon condemned as offensive. Now, more than six months after our report and decades after the original essay, Ms. McCray returned to Essence's pages to discuss Mr. de Blasio, her sexual identity and more.
"I came out at 17. I hadn't really dated any men. I thought, Whoa, what is this?" she said at one point in the Essence interview, when asked about entering her relationship with Mr. de Blasio. "But I also didn't think, Oh, now I'm attracted to men. I was attracted to Bill. He felt like the perfect person for me."
Ms. McCray went on to hint that she has a much more complex sexual identity today.
"I am more than just a label. Why are people so driven to labeling where we fall on the sexual spectrum?" she said when asked if she considers herself bisexual. As to whether she is still attracted to women, Ms. Mcray said, "I'm married, I'm monogamous, but I'm not dead and Bill isn't either."
Ms. McCray, who once worked for former Mayor David Dinkins along with Mr. de Blasio, now the city's public advocate, is perhaps the most active spouse on the mayoral campaign trail and appears set to take an active role in a potential de Blasio administration.
"It's too early to say what I will work on," she said about her plans if Mr. de Blasio wins, "but I'll be my own person."