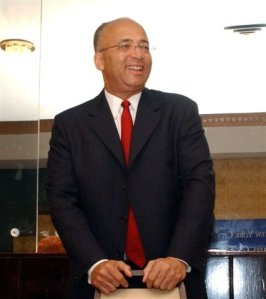 Bill Thompson raised more than $600,000 over the past two months for his mayoral bid–a haul his campaign touted as a "dramatic" uptick in their fund-raising pace.
The money, raised from March 12 through May 11, is nearly double what Mr. Thompson raised during the previous period–a sign, staffers said, that his campaign is gaining steam.
"I think this campaign is starting to kick into high gear," Mr. Thompson's chief strategist, Jonathan Prince, told reporters during a conference call announcing the results.
"We have moved on a lot of fronts to improve the way we were doing business, quite frankly," he said, pointing to a slew of recently announced endorsements and greater visibility in recent weeks.
Mr. Thompson has been criticized in the past for failing to energize voters and running a lackluster campaign.
Mr. Prince said the campaign spent roughly $300,000 during the recent period, leaving them with upwards of $2.3 million cash-on-hand.
The campaign also reported that more than half of the contributions were small donations of $250 or less; and about $50,000 will be eligible to be matched by the city's generous public matching funds program.
Mr. Prince argued the campaign's relatively modest spending early out of gate will give it an advantage in the long run, as the major campaigns, which are all expected to raise the maximum among, struggle to keep their spending under the required cap. The campaign, he said, already has  a $400,000 spending advantage over City Council Speaker and front-runner Christine Quinn and an almost half-million dollar advantage over Public Advocate Bill de Blasio.
"The campaign is kicking into high-gear at the appropriate time," he said.
Campaigns have until Wednesday to file their latest fund-raising and spending reports with the city's campaign finance board.