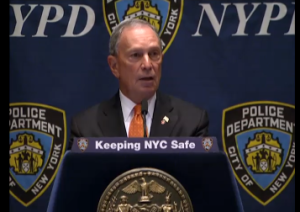 In a room filled with the grieving families of fallen cops, Mayor Michael Bloomberg once again lashed out against his wannabe successors who've been critical of the department–albeit less dramatically than his fire-and-brimstone speech last week.
During a memorial ceremony for six officers at One Police Plaza, Mr. Bloomberg said the NYPD should be celebrated–not attacked–and repeated his threat that future administrations may leave both officers and the public less safe.
"We can't thank the NYPD enough for all they do for our city or ever repay the debt we owe these six fallen officers and their families," Mr. Bloomberg said. "But we can begin by fulfilling our responsibility to keep our police officers safe from harm as well. And that means doing everything in our power to keep guns out of the hands of criminals," he said.
Specifically, the mayor cited his push for stricter federal gun regulations and "proactive policing" that he said discourages criminals from carrying guns–almost surely a reference to the department's stop-and-frisk tactic.
Mr. Bloomberg has spent recent weeks railing against a proposal—supported by the majority of the Democratic mayoral candidates—that would create an inspector general to monitor the NYPD. Another bill that would expand the definition of racial profiling and allow those who feel targeted to sue the NYPD in state court is also expected to pass the City Council—even though City Council Speaker and leading mayoral candidate Christine Quinn is opposed.
"Unfortunately, as you all know, right now there are a number efforts, both through legislation and litigation that would hurt police officers' ability to protect New York and hurt their ability to protect themselves," he said. "We're fighting these efforts forcefully and letting the public know how dangerous and wrong-headed they are. After this era of incredible crime-fighting gains, our officers should be celebrated, not punished," he added, vowing "as long as our administration is in City Hall, you can bet we will continue to stand up for New Yorkers' finest, just as you stand up for all New Yorkers everyday."
To bolster his description of the strides the city has made, Mr. Bloomberg also added a new statistic to his roster. Two decades ago, he said, the violent crime rate in his tony Upper East Side neighborhood was equivalent to the crime rate in today's Brownsville or the South Bronx.
"Back then, Manhattan's Upper East Side was considered one of the safest parts of our city. Today, nearly every single precinct in the city has fewer violent crimes than the Upper East Side did back then," said Mr. Bloomberg, who bought his townhouse in the hood in 1986.
"Think about that. Harlem, the South Bronx, Brownsville, Washington Heights, Corona," he continued. "They are all safer today than the Upper East Side was 20 years ago. That is an incredible turnaround."