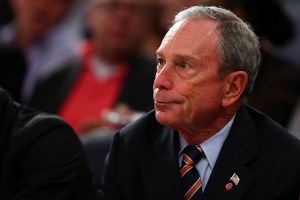 Last week, Mayor Michael Bloomberg and his national gun control advocacy organization received two threatening letters laced with the deadly agent ricin. Many mayors would be rattled by this, but Mr. Bloomberg said today that he actually feels more threatened by random lightning strikes.
"I trust the police department and I feel perfectly safe," he said during his weekly WOR radio show with John Gambling. "I've got more danger from lightning than from anything else. And I'll go about my business."
Saying there are "always threats unfortunately, that comes with the job," Mr. Bloomberg vowed to keep working on his gun control policy agenda.
During the interview, the mayor also marveled at how easy it is to construct these sorts of poisons, referencing an urban legend about poinsettia leaves' toxicity.
"Making a poison out of these berries–you can go on the internet," he said. "Don't eat–is it poinsettias that are poisonous? I've always  worried about why kids don't have more problems crawling around the floor and ripping a leaf off a poinsettia."