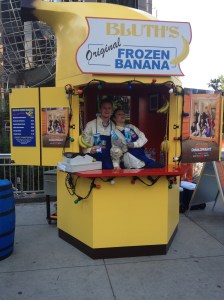 There's been something quite a-peeling going on this week in New York.
A real-life version of the infamous Bluth's Frozen Banana stand has been touring the city to coincide with the fourth season of Arrested Development—and The Observer managed to get a real inside scoop.
Heading down to the Columbus Circle location on Tuesday, the queue was so long it had its own security guard. We quickly made friends.
"It's been crazy all day," he said. "Some people have been here since like six in the morning."
The show that revels in its cult status seems to have the fans to match: director Ron Jeremy and NFL player turned White Chicks actor Terry Crews both stopped by.
"People yesterday were bringing their babies up for photos. It was like we were the Beatles or something," divulged an impossibly helpful lady called Rebecca. "Loads of people were doing the chicken dance. It's like we started an Arrested Development Harlem Shake"
"So a Banana Shake?" we chipped in, overly satisfied with ourselves.
Charms applied, we managed to get inside the hallowed wooden hut. Kitted out in a flawless replica yellow shirt and blue apron, we happily handing out the b-a-n-a-n-a-s.
We held up banana after banana for photos with fans who seemed less interested in the show and more in the possibility of free stuff. (Who could blame them?)
We enjoyed every second; our TV-fueled dreams fulfilled. We ignored request after request to step down, pretending we didn't hear them ask "You had enough?" Sneaky frozen banana in hand, we finally said adieu.
The actual product? Quite nice.