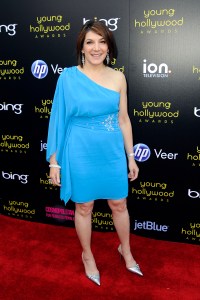 Bonnie Fuller, one time editor of Star and US Weekly and current editor of Hollywood Life, Jay Penske's celeb site, sent out an email today to share some "fantastic news" about the site's traffic and share her latest column in Ad Age, where she discovered all the ways that Baby Boomers are misreading millenials.
But despite the fact that she touts her insight into the youth demographic, Ms. Fuller made the same mistake as your Aunt Sue–she forgot to Bcc when she sent out a mass email to what seems to be a large swath of her address book.
Instead, Ms. Fuller just added well over a hundred (we lost count) of her media contacts into the the "to" box– including New York Times editor in chief Jill Abramson, Cosmo editor in chief Joanna Coles, Kathie Lee and Hoda, BuzzFeed founder Jonah Peretti (who is well-quoted in her piece) and what seems like half of the Huffington Post, slews of publicists for media companies, celebrities and clothing and make-up brands, and well, lots of other people.
"Young, female millennials 18-34 have radically different media habits than any previous generation and many senior marketers are still assuming that their traditional marketing methods will work with this digitally-addicted generation," Ms. Fuller wrote in her email. "But, the key is that today's young women ARE digitally addicted and need to be brand marketed to, in the digital world where they live. Would love if you'd take a read, and see if you agree or disagree. Let me know what you think!"
Our guess is, most people will think that before sharing her insights into the digital habits of millenials (they use the Internet!), Ms. Fuller should learn how to send a mass email without disclosing everybody's email address.
"I've been in numerous meetings with baby boomers who admit they feel overwhelmed by all their new media options," Ms. Fuller wrote in her post on Ad Age. "Plus, many boomer marketers simply cede all decisions on digital advertising to their hired digital agencies, and those agencies spend most of the dollars they receive on network advertising."
Too bad there was no digital agency advising Ms. Fuller on her email. But at least everyone has each other's email addresses now!