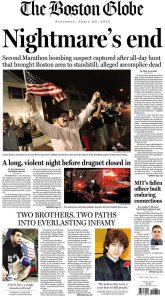 Well, that was fast–if not unexpected.
Penguin's Dutton imprint acquired what they are positioning as the definitive account of the Boston Bombings and subsequent manhunt and lockdown, written by Boston Globe reporters Scott Helman and Jenna Russell. Dutton is planning to publish the still-untitled book in time for the first anniversary of the bombing next April.
Both reporters have collaborated on news stories that turned into books. Mr. Helman is a co-author of The Real Romney, a Globe biography of Mitt Romney that came out last year, and Ms. Russell was part of a team of Globe reporters who wrote the 2009 biography Last Lion: The Fall and Rise of Ted Kennedy.
The account of the bombing, which will feature additional reporting from other staffers at the Globe, will follow an ensemble of key characters to create a narrative of the day.
"With the resources of The Boston Globe, the book will provide an unprecedented level of detail and insight, including what went on behind-the-scenes as the police and FBI faced several profoundly challenging situations and dilemmas, such as whether or not to release photos of the Tsarnaev brothers," Dutton wrote in an announcement. "Evoking the trauma at the bombsite as well as the fear and chaos of the days that followed, the book will also highlight the bravery, resourcefulness, and resiliency of the Boston community. It will be a portrait of a city on its worst day; but also at its best."
It is always just a matter of time between a large-scale tragedy and the ensuing books that claim to be authoritative versions. Although we imagine that this will not be the only book about the event, getting the staff of The Boston Globe behind it is a good way for Dutton to make a case for it as the definitive account.