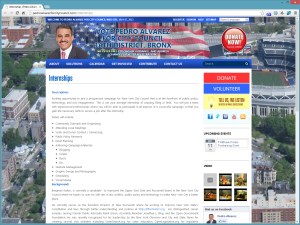 Ben Kallos, a candidate for City Council on the Upper East Side, was apparently offering campaign internships in the south Bronx.
That was according to the campaign website of Pedro Alvarez, a Bronx City Council candidate, which bore a striking resemblance to the website of Mr. Kallos. Under an "internships" section that was removed after Politicker contacted the Alvarez campaign, the text was identical to the Kallos site, even going as far as to mention Mr. Kallos several times.
"Benjamin Kallos is currently a candidate to represent the Upper East Side and Roosevelt Island in the New York City Council where he hopes to use his skills sets in law, politics, public policy and technology to make New York City a better place," read a section of the Alvarez campaign website until recently, for example.
After repeated requests for comment, the Alvarez campaign told Politicker that the web developer, Empress Networks, was to blame for the identical internships section, not the campaign itself.
"We're brand new people at this," said Marie, a member of Mr. Alvarez's campaign that refused to disclose her last name. "We paid to build a brand new page and we had no idea someone had done such a thing. It's really horrible, we're really bothered with this."
"It was not done with any malice, it wasn't anything like that," she added. "We're working in district that's so poor and has really little money."
But Empress Networks said it was up to the Alvarez campaign to actually edit the information within the website.
"They said they wanted that site built based on that other guy's website," said Ray Giles, the owner of Empress Printing. "Basically that's what was done, but they have to go in and change every aspect … They can go in and change the information whenever they want, they have all the log-in information. They should have changed it."
Mr. Kallos, for his part, seemed unperturbed about another campaign copying his website. Rather than address the identical website sections when reached for comment, he touted the strength of his own campaign.
"The fact that our campaign's open platform focused on solutions and progressive internship program have become a model demonstrates that we are not only leading by example, but changing the dialog," Mr. Kallos stated.
Additional reporting by Colin Campbell.