She's about face!
Mackenzie Santiago is taking the five o-clock shadow into her own hands. The former bartender has opened Brooklyn Grooming, the first male grooming line in the borough.
The line features beard balms ($26) that tame an errant beard, as well as leave a scent modeled after characteristics of different Brooklyn neighborhoods. The musical history of Fort Greene is represented by a mix of lavender and bergamot. A blend of the Yeah Yeah Yeahs, Mos Def, and Elvis Presley combined to inspire the scent that is meant to regenerate and invigorate even the most unkempt facial hair. The Williamsburg line has a woody scent, paying tribute to the strong, blue collar history of the neighborhood. (We're curious what the Gowanus line will smell like!)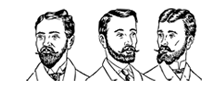 "I just love the smell of wood on a guy," Ms. Santiago told DNAinfo.com, who credited her ability to create different combinations of smells and textures to her drink-mixing past.
In addition to balms, Grooming also boasts mustache waxes to perfect the stylish 'stash, and tattoo balms to alleviate the sting of a new piece.
Ms. Santiago and co-owner Alfredo Ortiz operate out of a salon in Bushwick, but their products are also found at Greenpoint's The One Well, Manhattan's Sustainable NYC and can also be ordered online.