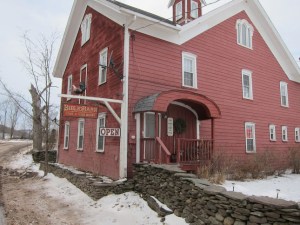 When BookCourt opened in 1981, just crossing the Brooklyn Bridge felt like a visit to the country, or at the very least to a suburb of Manhattan. But in the past 30 years, the Cobble Hill bookstore has become the epicenter of the booming literary Brooklyn scene. Now, the family-owned indie is planning to expand to the actual country, where fresh air and sunshine will mingle with that book smell that even people who mostly read on tablets claim to love.
Earlier this week, BookCourt announced their plans to buy Bibliobarn, the Catskill bookstore 160 miles north of the city that was recently put up for sale. The idea is to make the new second location in South Kortright, which they are going to call BookCourt North, into a bookshop, event space and writers' retreat.
Even Brooklyn readers and writers, it seems, can benefit from a little bit of fresh air.
Zack Zook, BookCourt's events and development manager (and son of BookCourt fonders Henry Zook and Mary Gannett) launched a campaign on Indiegogo.com, the crowdfunding site for arts organizations and projects, in order to get literary types to contribute financially to BookCourt North. So far, the campaign has gotten 44 funders and raised $3,786 dollars toward the $300,000 goal before the campaign ends on July 1.
We emailed Mr. Zook, who, after growing up in the business, managed the store for six years before taking charge of events and development about two years ago, to find out more about this Northern expansion:
NYO: Why does BookCourt want a space in the county? 

Zack Zook: BookCourt has operated in Brooklyn for over 30 years. I have worked for BookCourt for 8 years. For the past 7 years, I personally have been shopping at Bibliobarn, and I became friends with the owners, H.L. & Linda Wilson. When I heard they were putting it up for sale, the first thought I had was, how can we make what they have done continue? So I thought long and hard and realized that given the customer base and reputation that both BookCourt and Bibliobarn have in place, we could launch a crowdfunding campaign that would work to fit our vision of enhancing the place, rather than seeing it sold off as a non-literary entity.

NYO: What will your role be at Book Court North?

ZZ: My plan is to spearhead the launch of BookCourt North and throughout 2014 grow it to a level of professionally managed functionality, i.e. open the bookstore on the ground level, establish staffing, formulate the writers' retreat programming concept we want to execute and renovate the upstairs space, engage the surrounding community by starting an event series at BookCourt North … basically build the place and get it on par with our Brooklyn shop. We are envisioning BookCourt North as sort of a BookCourt in the mountains, but with all the perks of urban literary community…"

NYO: Why get crowdfunding? 

ZZ: Because booksellers don't have piles of cash laying around and it's a great model that is community based and honest. There is transparency. There is responsibility. The mission is forced to prove itself, forced to prove its professionalism. There are also inherent advantages: there is publicity built in to it, so the more it is promoted and the more exposure it gets, the more people become aware of your mission. It's a revolutionary tactic thanks to the internet.

This is a grass roots campaign aimed at perserving and enhancing a literary legacy in the form of a barn on 5 acres. It's a very idyllic environment and it's so close to NYC. We want NYC writers (or writers from anywhere) to be able to spend a full weekend there and get back to the city on Monday, conveniently, just as we want writers to spend longer stints in residence. It is so easy to feel as though we live in a society that on a grand level is anti-literacy. People have to work and fight for the opposite, for engaging readers young and old, for aiding and inspiring writers from all backgrounds. The book world is beautiful and we are simply trying to grow it, preserve it, give back to it. So crowd funding is the perfect platform for a project like this. Also, if we were in the business of trading stocks on Wall Street, we wouldn't need to do a grass roots campaign aimed at rallying the masses, but we probably wouldn't know a good book from a tube of toothpaste either…

The Interview has been slightly edited and condensed for your reading pleasure.