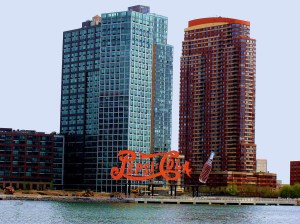 A few weeks ago, word got out that Brownstoner, the real estate blog that has not only chronicled, but embodied so many of the things that have transformed Brooklyn in the last decade (founder Jonathan Butler also started Brooklyn Flea and Smorgasburg), would be launching a new site: Brownstoner Queens.
"Certainly from the real estate market's perspective, momentum has been building," Mr. Butler told the Daily News when Brownstoner announced the new site. "As Brooklyn becomes more out of reach, more and more people will be looking at Queens."
But how, exactly, would the site's super Brooklyn-y ethos translate to Queens? (A colleague quipped that it should be called vinylsider.) When we learned that Roland Li, who has written for this paper's pink pages and The Wall Street Journal, would be editing the site, we called him up to chat about his plans for Brownstoner Queens and the borough of Queens versus the borough of Kings.
The Observer: What are your thoughts on covering Queens and what are some of the things that you'll be focusing on?
Mr. Li: I think it's pretty under covered compared to Brooklyn. There's definitely a lot of activity happening in Long Island City and Willets Point with Related. I think the question of affordable housing is really a central issue in the borough. You have a lot of neighborhoods that seem to be going through transition. We'll be going to community board meetings, visiting new developments, going to restaurant openings. I'm hoping it will be a source for data and real man-on-the-street reporting.
The Observer: What is your relationship to Queens right now?
Mr. Li: I've been living in the city for more than 7 years now and like a lot of people, I don't go to Queens enough. I visit PS1 and I grew up in Westchester, so we would go to Flushing to get groceries once a month. I think it will be really cool to chart its evolution. A lot of the Brooklyn stuff is so over covered, it's kind of fatiguing at this point.
The Observer: What do you think some of the recurring issues and themes will be in that evolution?
Mr. Li: Well, with Long Island City, we're definitely seeing more luxury projects. There's a lot of investment in the neighborhood. A lot of the land is built out in Manhattan and Brooklyn, so more and more people are moving there and you see rents going up and inventory going down. I know a lot of people who can't afford neighborhood rents.
The Observer: Do you think Queens will ever be as desirable or as hip as Brooklyn? Is it capable of becoming the kind of global brand that Brooklyn has become?
Mr. Li: I think with Brooklyn, the art scene played a huge part in shaping what it became. There were a ton of bands coming out of Williamsburg, there were galleries. It's hard to compare the two directly. Queens is one of the most ethnically diverse places in the world, it has a lot of cultural destinations and restaurants, but it's hard to see those things coalescing around a single brand.
The Observer: When does the site launch?
Mr. Li: May 20.
The Observer: That's soon! You don't live in Queens now—are you planning to move?
Mr: Li: I live in Williamsburg, but if I could find a sweet place, I would be open to moving when my lease is up. A lot of my friends live in Astoria, so I would definitely consider that. I also think that Jackson Heights is pretty cool. But for now I'll be biking—it's not too long of a ride to Long Island City—and taking the dreaded G train.
This interview has been condensed for your reading pleasure.